History of The Idaho Foodbank
A BRIEF HISTORY OF THE IDAHO FOODBANK (IFB)
1967 – John Van Hengle created foodbanking by founding St. Mary's Food Bank in Phoenix. His simple but profound concept–Some people go hungry while local grocers dump food that is close to expiration. Why not build a bridge between need and abundance? His idea spread rapidly.
1979 – America's Second Harvest was founded to link foodbanks across the country. In the first year 13 foodbanks distributed 2.5 million pounds of food. In 2004 the network consisted of 200 foodbanks and food rescue organizations that distributed 1.8 billion pounds of food throughout 50 states.
1983 – Idaho Hunger Action Council (IHAC) began work to create a central clearinghouse to gather, store and redirect surplus food to qualified charitable organizations. IHAC helped form an advisory committee with nine community leaders from local agencies and businesses. The first-year goal was to gain funding, establish a warehouse, solicit funds and distribute 1,000 pounds of food.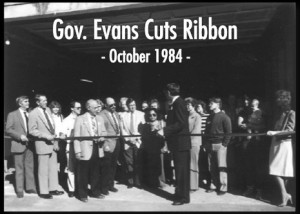 1984 – Gov. Evans donated the space and he and IHAC Director Wanda Michelson opened The Idaho Foodbank Surplus Warehouse at 801 Reserve Street–3,600 square feet in an old Armory building. Jill Chappell, VISTA volunteer, took over as interim IFB Director. Debbie Mallis, also a VISTA volunteer, was the first full-time staffer. She remembers, "scrounging for office equipment in our first office upstairs in the Old Armory." The first big food drive was at a Kenny Rogers concert at the BSU Pavilion. The staff wasn't ready for the quantity of food donated. "We had to figure out where to put a large quantity of red potatoes," Debbie said, "then how to bag and distribute them – a huge task considering the few people involved."
1985 – 255,365 pounds distributed. Doug McKinnon was hired as operation manager. "Our office furniture consisted of two chairs, a desk, one lamp, one file cabinet, a calculator and two large pieces of plastic. We placed the plastic on the floor to sort donated bread," he said. Lewiston distribution started by using the Nez Perce County Fairgrounds as an unloading point, sponsored by Valley Hunger Action Council, a chapter of IHAC. Fern Wilman, a recipient, volunteered to unload the trucks. It was IFB's first mobile pantry.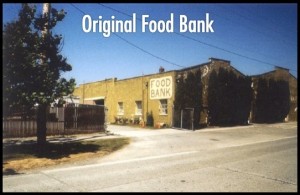 1986 – 317,087 pounds distributed. "The Armory had no dock; the warehouse had only a very temperamental pallet jack," said Mowbray Brown, a member of the steering committee. "Every item was hand-loaded into the back of a trailer…we would spot the trailer behind a church or emergency distribution point. They would take the food off and then we would move the trailer to a new location overnight."
1987 – 523,041 pounds distributed
1988 – 785,800 pounds distributed through 49 agencies. United Way-commissioned taskforce study recommended that IFB incorporate separately, relocate operations to a larger facility and start comprehensive food distribution immediately. An Interim Board of Directors formed with Wilma Smith as Chairperson. Ken Kirkpatrick was hired as Executive Director.
1989 – 1,019,179 pounds distributed. The Board of Directors held its first meeting. IFB moved its main distribution center to a 28,000 square-foot warehouse on Apple Street in Boise. The Lewiston downtown office opened, staffed by VISTA volunteer Lisa McIver.
1990 – 1,545,321 pounds distributed. Fern Wilman, former volunteer and recipient, was hired to run the Lewiston operation.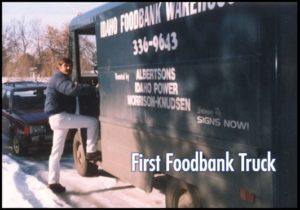 1991 – 1,608,245 pounds distributed. The first truck was donated and distribution expanded to the north and east of Boise.
1992 – 1.8 million pounds distributed. IFB was certified by America's Second Harvest.  A strong fund development component was the five-year plan implemented to acquire equipment and expand services.
1993 – 1.8 million pounds of food distributed.

1994 – 1.8 million pounds distributed. The Board of Directors hired Roger Simon with a background in nonprofit management as Executive Director. An on-site 19,000 cubic foot freezer was purchased. The Lewiston warehouse opened on July 1. Volunteers contributed 12,000 hours.
1995 – Nearly 2.4 million pounds distributed statewide. The Lewiston Branch began to serve Asotin County, Washington, as part of an agreement with Second Harvest Foodbank of the Inland Northwest in Spokane.
1996 – Over 3.3 million pounds distributed, up 39%. Local food drives generated more than 180,000 pounds of food and 133 member agencies received food and served over 228,000 people. Independently Sue Cobley began to rescue food prepared but not sold and deliver it to the homeless while living in a car with her five children.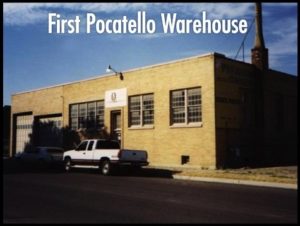 1997 – 3.35 million pounds distributed to 145 agencies across the state. Vehicles and forklifts were donated by Platt Electric, Flying Pie Pizzeria and Hewlett Packard. Sue Cobley was hired part-time to run Chefs to the Rescue, IFB's new food rescue program. Roy Lacey was hired to locate and run an IFB warehouse in Pocatello. Present and projected growth necessitated consideration of a new Boise facility.
1998 – 3,123,218 pounds distributed. Chefs to the Rescue became a full-time program. The Pocatello Warehouse opened serving five agencies; now it serves 54.
1999 – 3,434,319 pounds distributed through over 160 agencies across the state. Chefs to the Rescue, in its first full year, recovered 119,890 pounds of prepared food from restaurants and redirected it to needy Idahoans. First Peanut Butter and Jelly Food Drive created by Boise teacher Karen Coughlin collected 1,000 pounds. A Chefs' Affaire Gourmet Dinner and Auction was inaugurated. Kids Café was established in response to childhood hunger.
2000 – 4.3 million pounds distributed through 200 agencies. The Pocatello Branch distributed nearly 941,400 pounds in its second full year. A Capital Campaign was mounted to acquire larger and more efficient space resulting in the lease/purchase agreement for the building at 3562 T.K. Avenue with a move-in date of January 1, 2001. Volunteers donated 31,282 hours.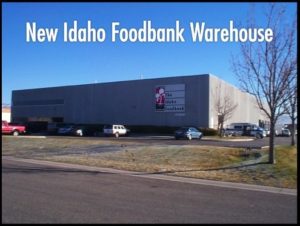 2001 – The new warehouse opened on South TK Avenue. Thanks to donors and volunteers IFB distributed 4 million pounds to 223 agencies in the aftermath of the September 11th terrorist attacks and the most severe economic downturn in Idaho in 18 years. Larry Johnston of Albertsons and Scott Simplot of J.R. Simplot Co. co-chaired the $2 million Capital Campaign to purchase and remodel IFB's new building. IFB spearheaded the Great Potato Donation – 13 million pounds of surplus Idaho potatoes sent to 130 foodbanks. Roger Simon won the Idaho Voices of Faith Human Rights Award.
2002 – 4.34 million pounds of food distributed. Kids Café expanded into Lewiston and served 42 sites. Children received food assistance 202,869 times; senior citizens received food assistance 131,990 times. Volunteers donated 45,479 hours. Food drives increased from 311 to 458; pounds from food drives climb from 453,681 pounds in 2001 to 609,466 pounds.
2003 – 4.44 million pounds of food distributed. The Idaho Foodbank was named by Charity Navigator as the most efficient charity in Idaho. Also, it received the Congressional Hunger Award for its Kids Café Program. The Chefs to the Rescue Program was covered in national publications. Kids Café expanded into Pocatello. PB&J Food Drive topped 10,000 pounds. Liberty Canyon Youth Ranch was named Volunteer Group of the Year. Lewiston's KATW-FM and sister stations held a 28-hour holiday marathon food drive. Cover the Blue Food Drive netted 56 tons of food.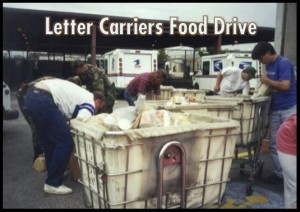 2004 – 4.25 million pounds of food distributed. IFB celebrated its 20th anniversary. The National Association of Letter Carriers Food Drive set a record with 226,580 pounds. A Chefs' Affaire Gourmet Dinner and Auction brought in a record $113,500 in its sixth year. The Pocatello Branch received the Governor's Award for Innovations in Health Care for Feeding Hope Program. Centennial Job Corps was named Volunteer Group of the Year. The Feeding Hope CD was created and an open house was held with a concert in the warehouse.
2005 – 5.65 million pounds of food distributed. Two hundred thirty-seven food drives were held with a high of 66 in December. May was a big month with 230,462 pounds. The November and December drives produced 290,000 pounds. Emergency food was accessed 690,607 times or 57,551 times per month. A new strategic plan was approved through 2007. Latino Hunger Relief Advisory Group was created to help find culturally appropriate food. The African Refugee Community Advisory Group was created to help Somali refugees resettle in Boise and find appropriate food. Chefs to the Rescue expanded to Cactus Pete's in Jackpot, Nevada.
2006 – 5.65 million pounds of food distributed. The cash budget rose to $2.57 million and the total budget, with donated food, rose to $11.4 million. Ken Kirkpatrick, the first executive director, died. Hunger in Idaho 2006 study found IFB provided emergency food for an estimated 81,400 different people annually and approximately 15,100 different people received emergency food assistance in any given week. IFB assisted after hurricanes Rita, Katrina and Wilma with food and personnel. Over 27,500 donors made financial gifts to IFB. Events produced over $200,000. Food drives produced 778,883 pounds, up 21%. Grocery Alliance Program was launched and netted 350,000 pounds. BackPack for Kids Program was developed. The Lewiston facility was remodeled. Emergency food was accessed 760,479 times this year.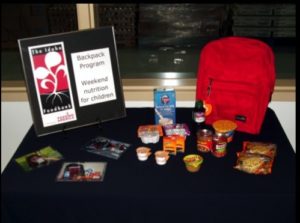 2007 – 4.63 million pounds of food distributed. National food donations slowed markedly and IFB began to search harder for more nutritional food rather than just pounds. The cash budget rose to $3.07 million and the total budget, with donated food, rose to $10.6 million. The new Mobile Pantry Program delivered 226,630 pounds to 11,100 recipients in rural and underserved areas of Idaho, including Somali Bantu refugees in Boise. The Grocery Alliance Program produced 312,000 pounds of recovered food. The Lunch Break Program served 6,555 meals to children on break from school, BackPack for Kids served 525 children who wouldn't have food over weekends, and children received 8,900 meals through Kids Café®. Picnic in the Park served 51,430 meals, up 282% from the previous year. A survey found that 62% of IFB agencies served more clients than in the previous year and 63% of agencies gauged IFB service as excellent. Total times assistance provided came to 729,100. IFB supported and helped create the first Idaho Summit on Hunger and Food Insecurity. Volunteers numbered 10,409 and donated 42,198 hours which saved about $246,000 in staff salaries. Plans were announced for a Capital Campaign to renovate a building in Pocatello and create a new, larger and more modern IFB facility.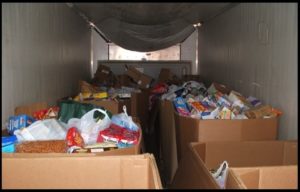 2008 – 5.56 million pounds of food distributed. National food donations stayed slow, and IFB continued to search for high-quality foods. Fruits and vegetables accounted for 34% of donated food. More than 1.5 million pounds of food came from food donated by sources other than manufacturers, and 655,194 pounds of that came from food drives, up from 588,000 pounds in 2007. IFB agencies provided assistance 938,200 times, up from 729,100 times in 2007, and over 1.5 million prepared meals. Children were served 373,000 times, adults 448,000 times and seniors 117,000 times. The Mobile Pantry distribution was up from 226,630 pounds to 934,207 pounds in 24 counties. Picnic in the Park served 75,000 meals, Backpack Program 227,712 meals, and IFB provided 145,141 healthy after-school snacks. Donors provided 16,737 turkeys, up from 14,829 the previous year. More than 17,164 volunteers donated 49,000 hours, up from 10,400 volunteers and 44,450 hours last year. Total revenue amounted to $11.7 million, of which $8 million was donated food. Work began on the remodel of the new Pocatello facility. A new strategic plan was completed to carry IFB into 2013.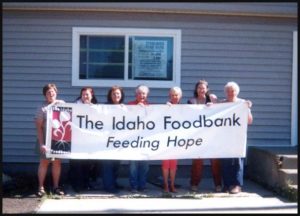 2009 – 6.8 million pounds distributed.  A large milestone in the organization was the addition of KarenVauk as president and CEO in April towards the end of the 2009 fiscal year.  During the 2009 fiscal year IFB distributed 2.3 million pounds of food through 34 Mobile Pantries to low-income and food insecure Idahoans, an increase of 146%, from the previous fiscal year.  That's nearly one out of three pounds of food distributed through our partner network. As of fiscal year end nearly 4,000 families benefited each month from the 23 counties we distributed to on a regular basis.  During the 2009 fiscal year 19,705 volunteers donated 53,174 hours which is equal to approximately 26 full-time positions.  The Grocery Alliance Program (GAP) provided more than 830,000 pounds.  The growth of the program saw an increase from 41,000 pounds of fresh food to 104,000 pounds each month. This is due in part to an expansion of partnering grocery stores and increased program activity.  The total revenue for IFB was $14.8 million, which is a 40% increase from the 2008 $11.6 million.
The Idaho Foodbank has experienced tremendous growth in the last five years as we expanded to meet increased need in our state. Our annual distribution increased 130% from 4.6 million meals in 2008 to 10.7 million meals in our fiscal year ending April 30, 2013. The growth in our programs has also been significant:
We increased Backpack distribution by 47% since 2009. We now distribute about 66,000 Backpacks each school year throughout Idaho.
Participation in our Picnic in the Park program more than doubled in 2011 when we added a mobile delivery option. Participation has remained as these expanded levels, and we now serve between 1,000 and 1,400 children each day during the summer.
School Pantry grew steadily from four pilot sites in the winter of 2010, to 22 fully-operational sites in the fall of 2013. We anticipate opening another six pantries by June 2014.
We more than doubled the number of Cooking Matters courses offered in the second year of the program, from 13 classes in 2012 to 26 classes already completed in 2013.
Our continued growth shows that demand for our services remains high. To meet this demand with an increased focus on nutrition and healthy eating, The Idaho Foodbank has planned for a number of capital projects in the next three years. These projects will expand the capacity of our North Central and Eastern Idaho facilities, establish a physical presence in South Central Idaho, and improve the functionality of our Southwest (Boise) warehouse to support program-specific activities.