Children who don't have reliable access to nutritious food at home are much more likely to suffer from chronic hunger—a condition that can lead to increased illness, developmental delays, and a higher likelihood of falling behind in school. Teachers throughout Idaho share stories of children coming to school hungry after a weekend.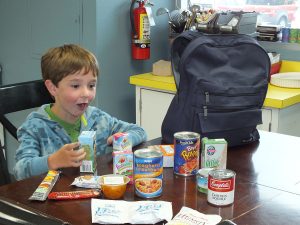 Our Backpack Program helps chronically hungry children by providing food support each weekend throughout the school year, when free school meals are not available.
On the last day of the school week, each participating child receives enough food for two breakfasts, two lunches, two dinners and two snacks in a discrete and lightweight backpack.
Meals consist of nonperishable items that are selected by our staff nutritionist to taste good and maintain nutrition while also being easy to prepare. As a result of the help they receive through the Backpack program, children come to school Monday morning nourished and ready to learn.
Each backpack includes enough healthy food for an elementary school-age child to enjoy:
2 breakfasts 
2 lunches
2 dinners
2 snacks
The food is kid-friendly, easy to prepare and the entire pack weighs less than 6 pounds. Each pack costs just $6.20.
The cost to sponsor one child for a full month is $24.80 and the cost to sponsor one child for a full school year is only $229.40. That is less than a third of what the average American family spends on soda a year.
Please help us make sure that thousands of children in Idaho go home with a full backpack of food to enjoy over the weekend, and return to the classroom ready to learn.