Daisy's Madhouse presents ~ The 5th Annual Will Act 4 Food: A 24-hour Play Festival to Benefit The Idaho Foodbank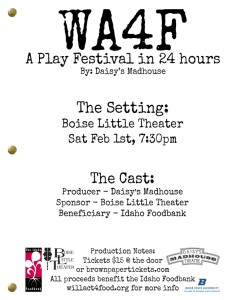 Daisy's Madhouse announces a benefit for The Idaho Foodbank – "Will Act for Food: a 24 hour Play Festival." On Saturday, February 2nd, 2013, come enjoy an evening of original one-act plays sponsored and hosted by Boise Little Theater and help The Idaho Foodbank.
On January 31st at 7:30 p.m. writers will begin to create original works in a variety of randomly assigned genres – drama, tragedy, comedy, farce, absurdist, suspense and adaptation. The writers are given a line and a prop they must use within a 10-minute one-act play. The next morning, directors and casts are chosen randomly for each of the one-act plays and rehearsal begins at 7:30 a.m. on February 1st. Showtime is 12 hours later at 7:30 p.m. Registration for writers, directors and actors began on January 6th. The participation fee is $15. This revenue as well as all ticket sales will go The Idaho Foodbank. For more details visit Daisy's Madhouse at www.daisysmadhouse.org, or www.willact4food.org or find us on Facebook or Twitter @willact4food24.