The Mobile Pantry Program distributes dry and frozen food to underserved, usually rural, communities. This program helps populations that do not have access to, or have difficulty accessing, food assistance.
The Idaho Foodbank sends a truckload of food to the designated areas once a month. When the truck arrives, volunteers unload the food and ready it for distribution. The Mobile Pantry Program serves on average 3,400 families in 33 communities every month.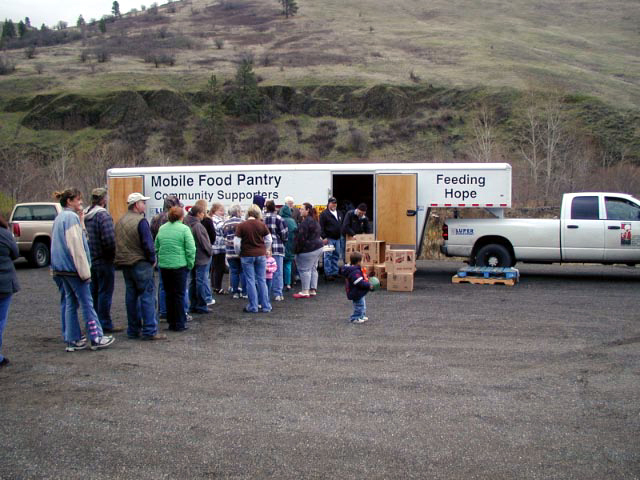 Free food to all those in need – no income verification required!
Filer
2nd Tuesday each Month
2:00-4:00 pm
Filer Senior Haven, 222 Main St
Glenn's Ferry
4th Tuesday each Month
10:00-12:00 pm
VFW Hall, 132 E 5th
Kimberly
2nd Tuesday each Month
12:00-2:00 pm
Crossroads United Methodist Church, 315 Syringa
Wendell
3rd Thursday each Month
12:00-1:00pm
Wendell Fire Station, 76 S Idaho St
Wilder
4th Friday each Month
12:00-2:00pm
Calvary Holiness, 310 B Ave
Burley
3rd Tuesday each month
12:00-2:00pm
Mountain View Christian Center
317 Mountain View Lane
Rupert
3rd Tuesday of each month
11:30 – 12:30 pm
Mini Cassia Shelter For Women
123 S C St
Weiser
3rd Wednesday of each month
10:00 – Noon
515 E. Court St
Carey
2nd Wednesday of each month
3:00-4:00 pm
Boyd Stocking Memorial Pavilion,
Carey Fairgrounds
Homedale
4th Friday of each month
11 am
420 West Washington Ave
Homedale Elementary
Quarterly Mobile Pantries
Camas Mobile Pantry
213 Ponderosa Ave E Fairfield, ID 83327 (Lighthouse Food Pantry)
March 11, June 10, September 9, December 9
Jerome Mobile Pantry
212 3rd Ave East Jerome, ID 83338 (Martha & Mary Food Pantry)
February 19, May 21, August 20, November 19
Gooding Mobile Pantry
237 Main St Gooding, ID 83330 (Helping Hearts and Hands)
March 19, June 18, September 17, December 17
Hagerman Mobile Pantry
130 N State St Hagerman, ID 83332 (Community Helping Hands of Hagerman)
February 24, May 26, August 25, November 24
Shoshone Mobile Pantry
112 S Apple St Shoshone, ID 83352 (Hope for the Hungry Community Food Pantry)
January 14, April 8, July 8, October 14
Arco
4th Thursday each month
4:30-6:30pm
Lost River Senior Center, 555 South Water
Challis
4th Thursday each month
12:00-2:00pm
American Legion Hall, 3rd and Main St
Dubois
4th Thursday each month
11:30-2:30 pm
Clark County Community Building
Idaho Falls
2nd Tuesday each month
1:00-3:00 pm
First Community Christian Church, Corner of 12th & Woodruff
Leadore
1st Firday each month
12:00-2:00 pm
Leadore Community Center/Library, 202 S Railroad St
Malad
2nd Thursday each month
12:30-2:30 pm
LDS Church, 400 N 200 W
McCammon
3rd Thursday each month
10:30-12:30 pm
McCammon City Offices, 802 Front St
Montpelier
3rd Thursday each month
1:00-3:00 pm
Bear Lake County Fairgrounds, 21620 US Highway 30
Montpelier, ID
North Fork
1st Friday each month
2:00-3:00 pm
North Fork Firehouse, 2072 Hwy 93
Preston
2nd Thursday each month
11:00-1:00 pm
Preston Community Food Pantry, 580 W Oneida, Ste. B
Roberts
4th Tuesday each month
11:00–12:30 pm
Mustang Center, 653 N 2858 E
Salmon
1st Friday each month
12:30-2:30 pm
American Legion Post 67, 212 S Andrews St
Soda Springs
3rd Thursday each month
11:30-1:00 pm
City Department Building, 60 South Main Street
Rexburg
3rd Tuesday each month
10:00am – 12:00 pm
Held at THE ZONE and THE DEVELOPMENT WORKSHOP Building (out by Artco)
275 Stationary Place, Rexburg
Driggs
3rd Thursday each month
2:00-3:00pm
The Church of Jesus Christ of Later Day Saints, 221 North 100 East
Bovill
1st Tuesday each month
Starts at 11:30 am
Carolyn Park
Craigmont
1st Thursday each month
11:00-1:00pm
Craigmont City Park, Main St
Elk City
3rd Tuesday each month
12:00-2:00pm
Elk City VFW Hall, 50 American River Rd.
Juliaetta
1st Tuesday each month
11:00-1:00pm
Juliaetta Baseball Field Overflow Parking, Hwy 3
Lapwai
2nd Tuesday each month
Starts at 10:00 am
High School Gym Parking Lot
404 S Main St, Lapwai, ID 83540
Lenore
4th Tuesday each month
10:00-12:00pm
Lenore Community Center, 37950 US Hwy 12
Potlatch
4th Thursday each month
11:00-1:00pm
Potlatch Presbyterian Church, 325 Larch
Riggins
2nd Thursday each month
12:00-2:00pm

New Location!
Riggins Community Center Parking Lot, 121 South Lodge St. (behind Chevron)
Stites
3rd Thursday each month
12:00-2:00pm
Stites Baptist Church, 106 Main Street
Weippe
4th Tuesday each month
10:00-12:00pm
Fire Station, 114 Pine St