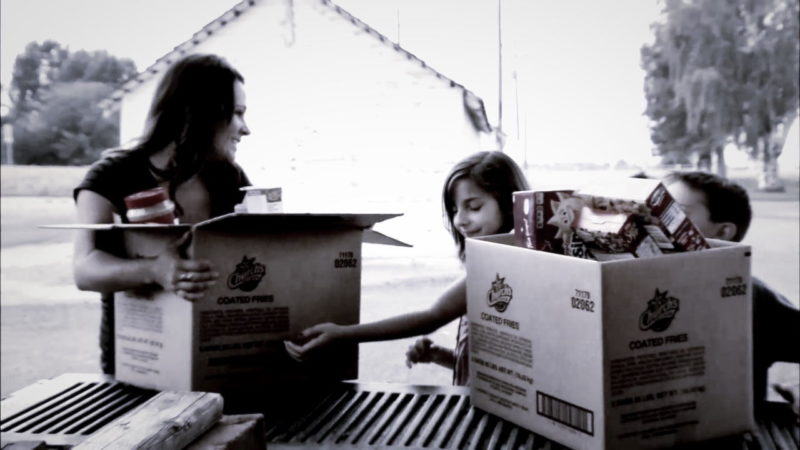 More than 230,000 Idahoans, including more than 75,000 children, are food insecure, meaning they live at risk of hunger. More than 1 in 6 Idaho children and about 1 in 7 Idahoans is food insecure.
Idaho Hunger Statistics – Updated May 4, 2017
The numbers improved for the second consecutive year, by nearly a full percentage point.
1 in 7 Idahoans (232,180 people or 14.0%) is food insecure (down 0.7% from last year).
76,070 Idaho children are food insecure. This is about 1 in 6 Idaho kids or 17.6% (down 1.5% from last year).
Idaho has 9 counties with childhood hunger higher than 20%. That's down from 20 last year and 30 the year before.
North central Idaho has also seen a decrease in overall food insecurity (15.8% overall, down from 16.3%/ 18% child, down from 19.8).
Eastern Idaho has seen a decrease (13.6% overall, down from 14.2%/ 17.1% child, down from 18.5%).
Nearly 1 in 3 people who need assistance have income levels that prevent them from getting government assistance (29.4%).
Nearly half the people who need assistance qualify for SNAP or are below that income level (48.7%).
Overall food insecurity and rate have both hit levels below the first run of data from 2009 (2011 release)
The economy may be improving, but many people are still not seeing the benefits.
5 counties are showing overall food insecurity rates below 10%
In Addition:
This study uses 2015 statistics, which are the most recent available.
Idaho's hungry are falling short by nearly 6 meals every week. That's two full days.
The average meal cost in Idaho has increased to $2.92 (up from $2.86)
Food is getting more expensive and Idaho's hungry are falling further behind
Map the Meal Gap 2017
"Map the Meal Gap" estimates the rate of food insecurity for both the general population and, separately, for children under the age of 18. The estimates are calculated at both the county and congressional-district level for the entire U.S.  It is the only study to report food insecurity data at the county level. The Idaho Foodbank is part of the Feeding America network.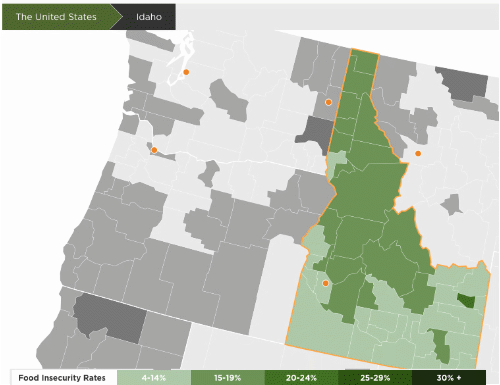 Map the Meal Gap 2017 Related Documents
Reports are based on data collected and analyzed by Feeding America
Links
What is food insecurity and what does it look like in America?
Food insecurity refers to USDA's measure of lack of access, at times, to enough food for an active, healthy life for all household members and limited or uncertain availability of nutritionally adequate foods. Food-insecure households are not necessarily food insecure all the time. Food insecurity may reflect a household's need to make trade-offs between important basic needs, such as housing or medical bills, and purchasing nutritionally adequate foods.