The Idaho Foodbank, established in 1984, is an independent nonprofit 501(c) (3) organization with warehouses in Boise, Lewiston and Pocatello. It is the largest hunger relief organization and the largest distributor of free food assistance in Idaho.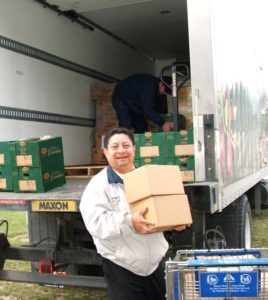 Food distribution is made possible by generous donors, thousands of volunteers and a network of more than 465 partners that receive food from the Foodbank's warehouses and distribute it directly to people in need. Our partners include food pantries, senior centers, rescue missions, community kitchens and other feeding programs. The Foodbank also provides direct service through programs such as Mobile Pantry, the Backpack program, Picnic in the Park and School Pantry. We also offer direct services programs such as Share Our Strength's Cooking Matters, a national program that teaches low-income families how to get more food for their money and better nourishment from those foods.
Working in partnership with Feeding America – the national network of more than 200 food banks – and with the national, regional and local food industry, The Idaho Foodbank's mission is to help feed, educate and advocate for Idaho's hungry through collaborative partnerships to develop efficient solutions that strengthen individuals, families and communities. The Idaho Foodbank services the entire state of Idaho, and service locations can be found here.