Watch Our Virtual Ribbon Cutting Ceremony from October 19, 2021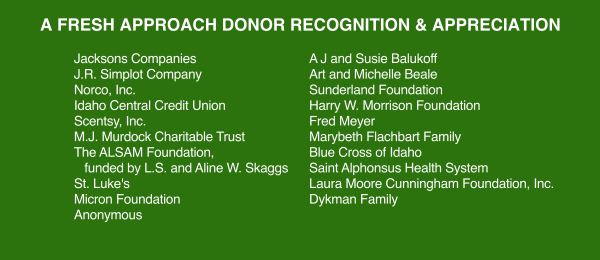 We must ensure that our Idaho Foodbank has the capacity to capture more Idaho-grown produce and distribute it more frequently to more Idahoans than ever before.

Campaign Chair Patricia Kempthorne, former Idaho First Lady and Founder, Twiga Foundation
A Fresh Approach Capital Campaign
The 2020 surge in demand for supplemental food worsened our warehouse capacity limitations. Now, with your help, we are able to distribute more food to our Idaho neighbors in need during these difficult times.
Our challenge has not been a shortage of food, but a lack of warehouse space.
This has never been more true than now during the Coronavirus emergency food crisis we're currently facing. A lack of warehouse capacity, especially for perishable goods, limits our ability to distribute food in a timely way to feed Idaho's hungriest families, seniors and children.
The Solution: Idaho's New Hunger Relief Facility
Thanks to a generous lead gift by Jacksons Food Stores, The Idaho Foodbank agreed to purchase a 102,000 sq. ft. building in Meridian, which now serves as the new IFB statewide food distribution facility.
Purchasing the new food distribution facility, along with the cost of renovations to add teaching kitchens, office space and a volunteer center total $13.2 million. With the lead gift of $1.88 million, and the proceeds from the sale of IFB's current 28,000sq. ft. warehouse in Boise, the goal of A Fresh Approach Capital Campaign has been to raise $8.8 million in donations for the remaining cost of the project. As of March 2021, we have reached 90 percent of our goal.
Providing Food for Meals - by the Millions
94% of All Donations go to Feeding the Hungry
The Idaho Foodbank is the largest distributor of free emergency food in Idaho, with warehouses in Meridian, Pocatello and Lewiston providing enough food for more than one million meals each month. One of Idaho's most-trusted charities, IFB has been providing hunger relief for 36 years and is grateful for the generous contributions we receive.
Testimonials from Our Donors
Heidi and Orville Thompson, Co-Owners & Co-CEOs of Scentsy
Jim Kissler, CEO at Norco, Inc.
We hope you will consider helping build a hunger-free and healthier Idaho by supporting our A Fresh Approach Capital Campaign.
To learn more about supporting
A Fresh Approach Campaign contact:
Morgan Wilson
Chief Development Officer
The Idaho Foodbank
208-577-2691
morganw@idahofoodbank.org