Course/Tour Coordination; this module will provide you with a thorough understanding of how to prepare for a Cooking Matters course or tour. It will introduce the resources provided below and also explain host agency selection, volunteering training, and course/tour materials preparation.
Please review the video to get started:
When attending community events, be sure to download and bring these documents with you.
Volunteer Training
Proper volunteer training is essential. Below you will find all of the necessary resources to assist you. The Volunteer Training Toolkit is an in-depth document that will provide you with extremely important information and tools needed to conduct a meaningful training session. Using this will allow volunteers to deliver the Cooking Matters curricula using the Gold Standards we feel are pertinent to overall program success. This toolkit includes course content, ways to use facilitated dialogue, ways to help your volunteers share nutrition and culinary information, activities to connect with your volunteers, a cooking activity, and much more.
Use the Volunteer Training PowerPoint to help you pass on the information you learned from the Volunteer Training Toolkit. With this PowerPoint you can discuss our learner-centered approach and how to use facilitated dialogue by using open-ended questions. It will also explain how to use our Instructor's manual.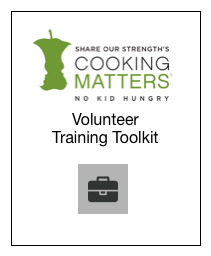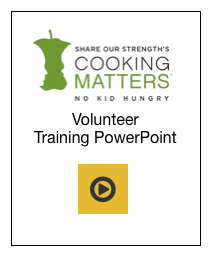 The following information should be provided to your volunteers during the volunteer orientation:
The Cooking Matters Website also provides some very useful Tips and Videos to aid with instructing activity specific topics.
Cooking Matters Coordination Timeline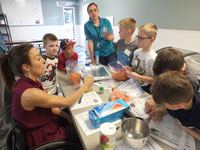 Curriculum, scheduling courses/tours, recruitment and working with host sites.
Learn More >>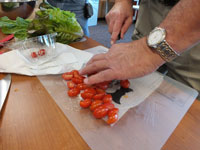 Survey administration and required forms for Cooking Matters programming.
Learn More >>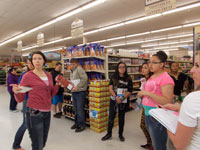 Course materials to help recruit, train, and retain volunteers.
You are here