November 1, 2022 @ 8:00 am

-

December 25, 2022 @ 5:00 pm
Santa Turkey Bucks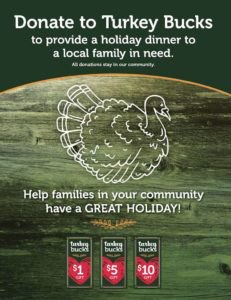 Starting in 2005, the Albertsons Turkey Bucks campaign has raised funds for The Idaho Foodbank to provide food for holiday meals to Idahoans in need. This year, customers will be given the opportunity to donate to The Idaho Foodbank when they pay for their purchases at multiple Albertsons stores raising money to provide food for meals this holiday season.
Empty Bowls - SW
The Idaho Foodbank

About
Get ready for our 25th annual Empty Bowls virtual event! Empty Bowls is an international project to fight hunger, personalized by artists and community members, who offer their handcrafted and hand-painted bowls throughout the year. The Idaho Foodbank's Empty Bowls offers the opportunity to select a unique bowl from thousands. We encourage you to remember that not all our Idaho neighbors are able to meet the basic need of feeding their families. The funds raised by this event help to provide food assistance to those in need this winter holiday season. Bowls start at $15 and sales will open on November 25th at 8AM. Updated bowl pick-up times will be published before bowl sales begin.
If you would like to paint bowls to contribute towards our event this year, contact Ceramica (208-342-3822) or A Way With Clay (208-297-2333) to arrange your time to paint before November 13th!
Location
3630 E Commercial Ct
Meridian, ID 83642
Map It