October 1, 2022 @ 8:00 am

-

December 31, 2022 @ 5:00 pm
Target Circle Campaign
Through Target's mobile app, website and in-store, Target shoppers can enroll in the Target Circle program to earn and cast votes for a selection of 5-6 national and local nonprofits. At the end of each 90-day voting period, each nonprofit will be awarded a grant based on the percent of votes they received. Feeding America is a featured partner in all Target markets for the Q4 campaign. ​​​​​​​​
Feeding America will be featured as a national partner in all Target markets October 1- December 31. Although the campaign will feature Feeding America branding, 100% of the funds raised through the program will benefit the local food bank.
Cranksgiving
Barrie's Ski and Sports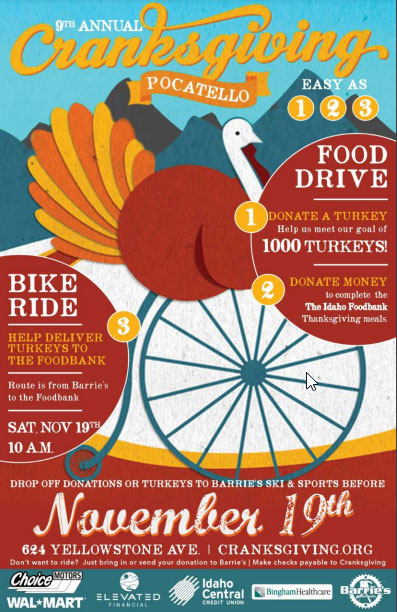 About
It's that turkey time of the year! Come join Barrie's Ski & Sports for their 15th annual Cranksgiving event. To meet the increased need for assistance in Bannock county, we are asking for your support to help us gather turkeys to be distributed at the Bannock County Thanksgiving food box distribution. Turkeys and monetary donations can be dropped off at Barrie's Ski & Sports, the Idaho Foodbank, and any Pocatello ICCU branch. All donations will need to be made by 10:00am November 19th.
Want to continue the fun? Grab your bike and meet us at 10:00am at Barrie's Ski and Sports on Saturday, November 19th as we peddle the remaining precious proteins to the food bank warehouse.
For more information you can contact the Pocatello branch at 208-233-8811.