On The Road To Solving Hunger in Idaho
In 2012, the Idaho Trucking Association (ITA) partnered with The Idaho Foodbank and Spokane's 2nd Harvest Food Bank to launch "Truckers Delivering Hope". The goal was to apply the resources of the trucking industry to the challenge of hunger in Idaho, and in doing so, demonstrate the vital role the industry plays in maintaining the food supply.
What You Can Do
Backhaul and/or transportation
Participating companies dispatch drivers to pick up and deliver food to one of The Idaho Foodbank's facilities in Boise, Lewiston or Pocatello. Every dollar the Foodbank saves on transportation goes to support hunger-relief efforts that benefit working families, children and seniors.
Food and Fund Drives
Association members and their employees can host or participate in food and funds drives to benefit The Idaho Foodbank.
Kicked Loads
Loads rejected by retail and warehouse locations can be delivered to the Foodbank facility in Boise, Lewiston, or Pocatello.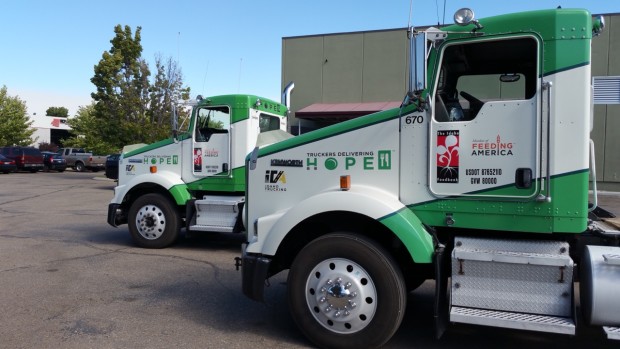 Equipment Donations
The Idaho Foodbank utilizes a fleet of trucks to pick up and deliver dried, refrigerated, and frozen food to their own facilities as well as distribution partners in communities statewide. In most cases, the trucks are donated by companies that support the mission of the Foodbank. In addition to the trucks, companies also donate trailers, an important resource, especially with an ever increasing volume of fresh and frozen food donations.