The Idaho Foodbank service area covers 75,000 square miles, and our network provides food and services to 39 of Idaho's 44 counties (the panhandle is served by our Feeding America sister foodbank in Spokane, WA).
We operate three redistribution warehouses that are vital to the efficient distribution of food across this geographically widespread and diverse state.  Each facility houses dry as well as cold storage, staff offices, volunteer activities, and the regional vehicles needed to safely and quickly move food through the network via Mobile Pantries, the Grocery Alliance Program, and community partners.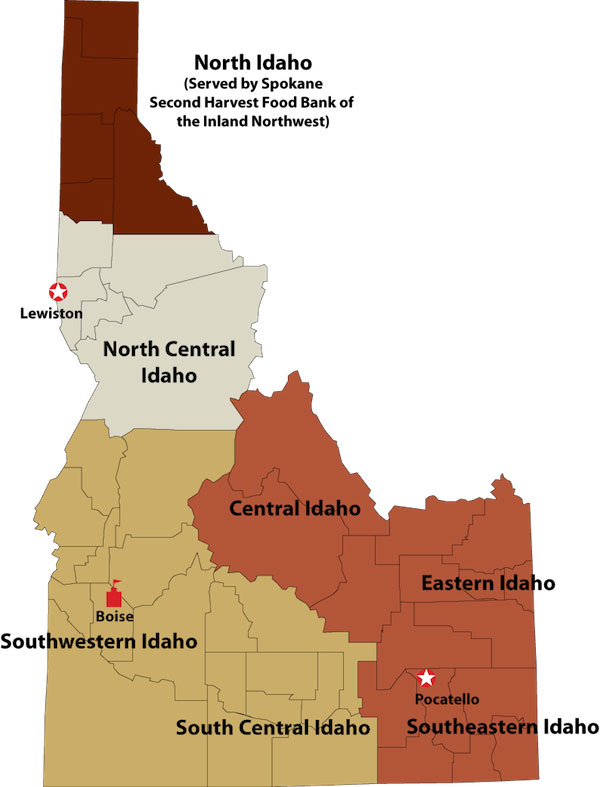 Service Areas
Locations
Southwestern Idaho
North Central Idaho
Eastern Idaho

The facility in Boise serves southwestern Idaho as the regional as well as the statewide distribution center. Counties served through this facility are Ada, Adams, Blaine, Boise, Camas, Canyon, Cassia, Elmore, Gem, Gooding, Jerome, Lincoln, Minidoka, Owyhee, Payette, Twin Falls, Valley, and Washington.
Clearwater, Idaho, Latah, Lewis and Nez Perce counties in the north central region are served by our warehouse branch in Lewiston.
The eastern Idaho counties of Bannock, Bear Lake, Bingham, Bonneville, Butte, Caribou, Clark, Custer, Franklin, Fremont, Jefferson, Lemhi, Madison, Oneida, Power and Teton are served through our facility in Pocatello.
Where to get food in Southwestern Idaho
Where to get food in North Central Idaho

Where to get food in Eastern Idaho
Where to get food in South Central Idaho
Where to get food in Southeastern Idaho
Where to get food in Central Idaho
The Idaho Foodbank
3562 S. TK Avenue
Boise, ID 83705
208-336-9643
The Idaho Foodbank
3600 E. Main Street
P.O. Box 513
Lewiston, ID 83501
208-746-2288 (office)
The Idaho Foodbank
555 S. First Avenue
Pocatello, ID 83201
208-233-8811
Greg Roegiers, Branch Manager, groegiers@idahofoodbank.org
Cari Miller, Branch Manager cmiller@idahofoodbank.org
Rebecca Ristrem, Branch Manager rristrem@idahofoodbank.org


Contact the regional branch for operating hours, food donations, food assistance and to schedule a
volunteer activity.