For every $10 donated, The Idaho Foodbank can distribute enough food to provide 30 nutritious meals to neighbors in our communities.
Click here to become a Monthly Donor!
Would you prefer to mail your donation?
Donation Form
Take The 2014 Feinstein Challenge – 17th Annual $1 Million Giveaway To Fight Hunger. When you make a cash donation during the month of April, be sure to check the box to tell us you want your gift applied to the Feinstein Challenge, multiplying your support!
If you have questions regarding your donation, email our Gift Processing Department or call 208-577-2694.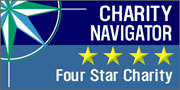 *The Idaho Food Bank has been awarded Charity Navigator's highest rating for four consecutive years – a record of excellence and efficiency achieved by only 6% of nonprofits nationwide.