Volunteer with The Idaho Foodbank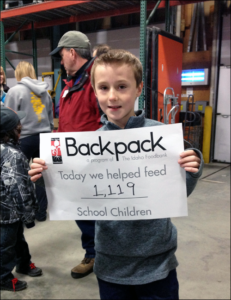 Last year, over 17,000 volunteers gave over 48,000 hours helping sort and repack food, load and unload food donations, teach cooking classes, build backpacks and distribute food at mobile pantries – this is the equivalent of 23 full-time employees! Idaho ranks third in the nation in volunteerism – 36.5% of residents give their time to the communities that they call home. The Idaho Foodbank would simply not function as efficiently without the dedicated support of people like you!
Since many shifts fill quickly, volunteers must sign up in advance. If a reservation is not made, 'walk-in' volunteers may be asked to schedule for a future date.
Volunteer FAQ
Volunteer Calendars
To schedule volunteer time – first click the appropriate calendar below to view openings:
Important Documents

Court Mandated Guidelines
Volunteers seeking hours for court-ordered community service are eligible to assist in the warehouse. All shifts must be booked in advance and volunteers must provide a copy of their court documents and must have no felony convictions. Sort shifts and Special Event shifts are not eligible for court-mandated hours.