A Chefs' Affaire 2020 Goes Virtual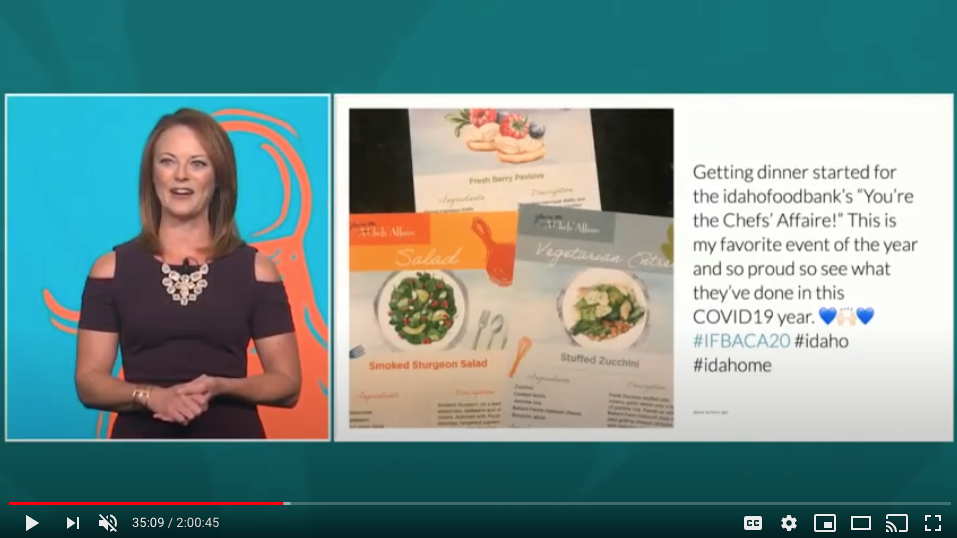 The Idaho Foodbank has been hosting A Chefs's Affaire for 22 years to raise money to help feed our hungry neighbors. Every year Treasure Valley area chefs have joined with us to serve up amazing gourmet meals, along with a host and a live auction. This year we went virtual, streaming the event on YouTube, Facebook and Zoom.
The idea this year the concept became "You are the Chef" and our participating chefs put together ingredients for a 3-course gourmet meal. The day of the event we handed out fresh food boxes, which included meals for two. We had both a meat and vegetarian option for folks who bought tickets.
Following a special one-hour concert by Boise Band The Trees The Trees (yes, the name is repeated) we went live at 7 PM. The event was hosted by Michelle Edmonds of KIVI, and featured videos of the chefs giving tips on how to best prepare the course they put together, along with an address by The Idaho Foodbank's CEO and President Karen Vauk. We did an online version of our traditional live auction which was hosted by Baker Bid Auctions and it went very well.
Check out all the photos that were shared throughout the evening! 
We wish to thank our Chefs:
Chefs Marcus Bonilla and Chef Ethan Kauffman, Reel Foods
Chef Christopher Zahn, Zee's Rooftop Cafe
Chef Sarah Mallard, Chef & Broker at Mancini Rodon Group
Chef Emmeli Mayo, Owner & Chef Emmeii's Cake
You can watch a video clip of their tips here.
A special thanks to our longtime partner Sysco and their Chef, Ken Hodges.
Thank you to Michelle Edmonds for doing a wonderful job hosting, Tyson Baker from Baker Bids Auctions for running the live auction, Boise Centre, Valiant Productions and Sona Events, Craig Stein, all our sponsors, volunteers and everyone who participated for helping to make the first virtual version of A Chefs' Affaire a great experience.
View the streaming event on YouTube