Albertsons Teams Up With Boise State, The Idaho Foodbank For "Sacks For Hunger"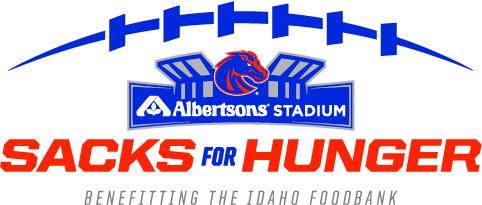 When the Boise State Broncos run onto the turf this season, they'll take on a much bigger rival than the team they're facing – the hunger of 230,000 Idahoans.
In 2017, Albertsons is once again teaming with Boise State football and The Idaho Foodbank with its yearly tradition of "Sacks for Hunger", a unique way to raise funds for hunger relief. For each sack the Broncos defense tallies this season, Albertsons will donate $500, up to $10,000 for the season. That means each sack won't just set the opposing offense back, it'll also provide 2,500 meals for Idahoans who are hungry.
"Albertsons is what we call an 'all-in' partner in the effort to solve hunger," said Karen Vauk, President and CEO of The Idaho Foodbank. "Sacks for Hunger is just another example of this company, its employees, and its customers dedicating themselves to serving their communities and giving back to the Idahoans who need it most."
In just the last fiscal year for the Foodbank, Albertsons has donated the equivalent of 2.2 million meals in food alone through campaigns like Turkey Bucks, Santa Bucks, and many other gifts throughout the year. That's not to mention the countless monetary donations the Foodbank receives from Albertsons employees and customers. Since the beginning, Albertsons has set itself apart as a partner in hunger relief, even maintaining a position on the Foodbank's Board of Directors.
Boise State University is also a regular partner in the effort to solve hunger. Last season, Boise State defensive player David Moa led the way for the Broncos in sacks with 8.5. With Boise State's partnership with Albertsons for this campaign, Moa's sacks provided enough food for more than 20,000 meals. The Broncos also host the Hunger Bowl each season to help raise funds. This year's Hunger Bowl is slated for November 18 against Air Force.