Albertsons Tops Previous Record, Provides More than 3,000 Holiday Meals to Idahoans in Need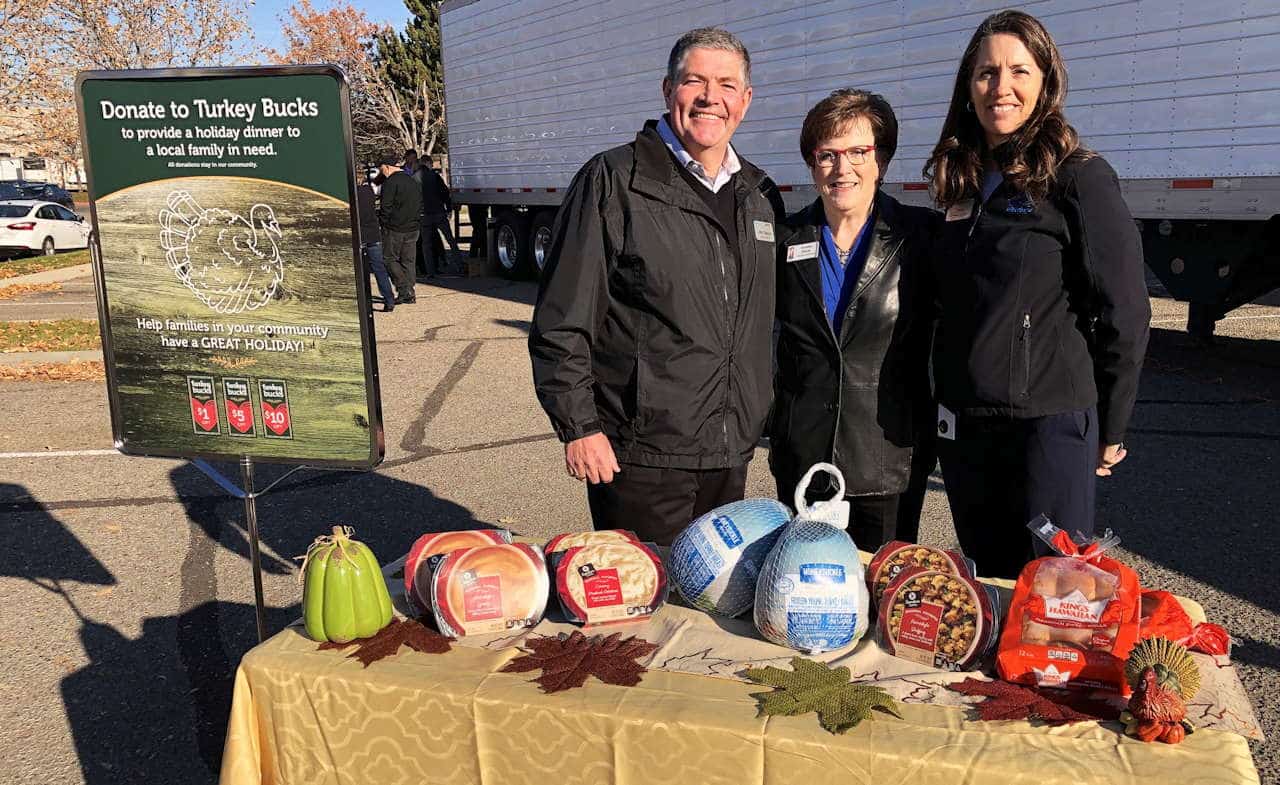 November 15, 2018 (BOISE) – Albertsons employees and customers worked together to raise funds this month to help solve hunger in Idaho, and on Thursday, Albertsons came to The Idaho Foodbank with a truck filled with 3,067 full turkey dinners for the families who need them most.
As part of the annual Turkey Bucks campaign, shoppers at Albertsons stores in southern Idaho had the opportunity to add to their purchase totals to donate $1, $5 or $10 to Idaho families in need. The first truck shipment of those meals arrived at The Idaho Foodbank Thursday. Meals will continue to arrive for Turkey Bucks and will continue on with the annual Santa Bucks campaign, adding opportunities for customers to give in late November and December.
"Albertsons is committed to our longstanding partnership and support for The Idaho Foodbank to provide hunger relief to those in need," said John Colgrove, Albertsons Companies Intermountain Division President. "Due to the kindness of our customers and employees, we are humbled to have this opportunity to give back to the community and support people who struggle with hunger every day."
The meals come at the perfect time, as the Foodbank works to distribute food for 2.7 million meals in the final two months of the year.
"The generosity of Albertsons employees and customers is an inspiration and an example of what can be done when a community rallies together," said Karen Vauk, President and CEO of The Idaho Foodbank. "These meals brighten holidays and send an important message to Idahoans who receive them: People care about you and are here to support and help you through the holidays and beyond."
The Idaho Foodbank is an independent, donor-supported, nonprofit organization founded in 1984, and is the largest distributor of free food assistance in Idaho. From warehouses in Boise, Lewiston and Pocatello, the Foodbank has distributed more than 170 million pounds of food in its 33-year history. In the last fiscal year, the Foodbank distributed enough food to provide more than 15.5 million meals to Idaho families. The Foodbank distributes food through a network of more than 400 community-based partners. These include schools, pantries, senior centers, feeding sites, and shelters. The Foodbank also operates direct-service programs that promote healthy families and communities through good nutrition. Visit idahofoodbank.org for more information.
About Albertsons Companies
Albertsons Companies is one of the largest food and drug retailers in the United States, with both a strong local presence and national scale. The company operates stores across 35 states and the District of Columbia under 19 well-known banners including Albertsons, Safeway, Vons, Jewel-Osco, Shaw's, Acme, Tom Thumb, Randalls, United Supermarkets, Pavilions, Star Market, Haggen and Carrs. Albertsons Companies is dedicated to helping people across the country live better lives. In 2015 alone,