Alina Rahim – Eastern Idaho Superstar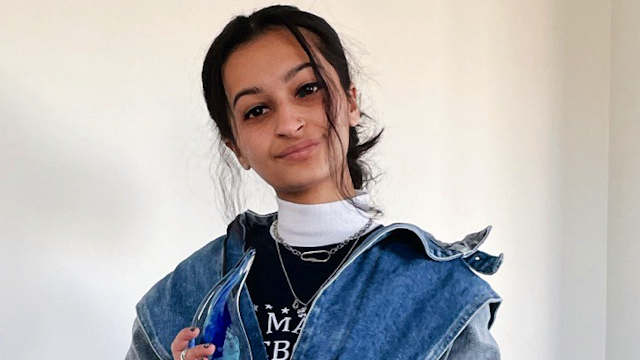 The Idaho Foodbank is proud to celebrate one of its youngest volunteers, Alina Rahim, recipient of the Gov. Cecil D. Andrus Volunteer of the Year award. 
Presented by the Idaho Nonprofit Center in partnership with Serve Idaho, the Governor's Commission on Service and Volunteerism, Alina Rahim of Pocatello was recognized for her volunteer contributions in eastern Idaho. 
Rahim shared, "Receiving the Cecil D. Andrus award has been one of my greatest achievements. However not because I was recognized for my contributions in this project, but because it showed how important and impactful YAS' collaboration with the Foodbank was. I was recognized for a variety of my volunteer and activism based work, but I wholeheartedly believe my work with The Idaho Foodbank is what truly gave me this wonderful achievement. Receiving this award further shows the visibility and possibility of change. Oftentimes individuals don't partake in volunteer and philanthropic work, as it seems like such a small part of the larger and more daunting issues we face in our current environment. However, I am an avid believer that the most visible change comes from tackling direct issues in your local area. I truly believe local incentive sparks national movement."
The Idaho Foodbank serves more than 56,000 people each month in 16 eastern counties. Alina joins approximately 29,000 volunteers who work for The Idaho Foodbank every year to assure that neighbors in need have the nutritious food they need. 
[testimonial name="ALINA RAHIM"]Working with the amazing members at our local food bank, we were able to help those with limited resources while also highlighting an issue that is in need of more support.[/testimonial]
At age 13, Alina and her sister created an organization called Youth Activism Society (YAS). Its mission is to empower local youth to advocate for marginalized communities and volunteer with local initiatives. YAS started as a small group of four teenagers from Southeast Idaho who shared a passion for volunteerism, community service, and sociopolitical activism. With her leadership, YAS now has five chapters and over 40 members in Idaho, Utah, California, Michigan, and Texas, with plans to expand to New York, and North Carolina.
The organization provides youth around the nation a like-minded group that encourages community and political engagement. Rahim used her skills and available resources to support her community and create opportunities for others, collectively amplifying their efforts and impact. Before and since the start of YAS, her philanthropic efforts have ranged from organizing reading and writing camps for Indigenous underserved children on the Shoshone-Bannock reservation, facilitating medical clinics in Nepal, funding girls' education, volunteering at the local hospital, working at the local soup kitchen and fundraising and volunteering with the Idaho Foodbank. 
She shared, "Working with the members at the Foodbank was one of the greatest and most humbling experiences during my time volunteering and depicts the larger impact that comes from working on a smaller scale. My YAS team and I were able to raise $4,200, funding 672 backpacks at $6.25 each for children struggling with food insecurity. This initiative was started to bring light to an issue that isn't directly visible in our community, the idea of food insecurity is a 'behind the scenes' issue. Therefore, working with the amazing members at our local food bank, we were able to help those with limited resources while also highlighting an issue that is in need of more support. Not only did our donation create a direct impact on our community, but it also inspired more community members to donate and get involved with this issue. I hope to continue working with the Idaho Foodbank, as this is only the beginning to many more amazing projects!"
The annual Idaho Philanthropy Day awards recognizes outstanding volunteers and philanthropists from throughout Idaho. In 2020, Serve Idaho combined efforts with the Idaho Nonprofit Center, replacing the previous Idaho's Brightest Stars event. This is the third year that the Gov. Cecil D. Andrus Volunteer of the Year Award was presented.
The Idaho Foodbank Eastern Branch welcomed nearly 9,000 volunteers last fiscal year.