Autumn Nutrition Tips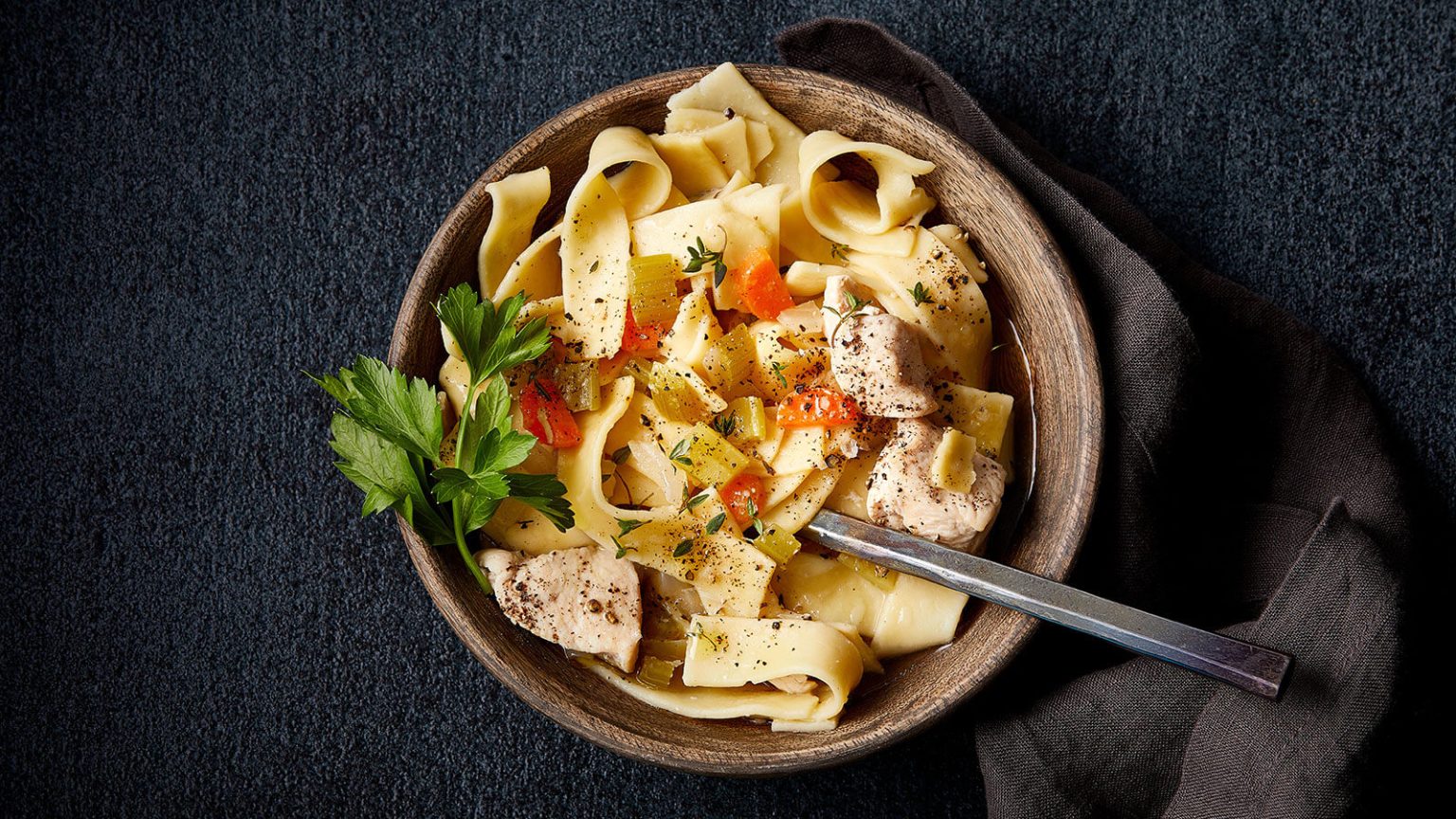 Now that it is autumn and the cold weather is creeping in, we can enjoy colorful leaves and pumpkin patches. Whether we are fighting off a cold or just looking for a good seasonal meal to enjoy, the thought of warm soup sounds incredibly inviting. This Betty Crocker recipe shows how to make an easy homemade chicken noodle soup.
To help keep the immune system strong for both kids and adults, this homemade chicken noodle soup is a great source of vitamins, nutrients, electrolytes, and antioxidants. There are a variety of vegetables within this soup that aids in a strong immune system. Because soups are mostly liquid, this recipe is a good way to keep the body hydrated. Additionally, chicken is a great lean protein because it is low in fat and sodium and does a good job maintaining metabolism and muscle mass.   
This easy recipe is tasty for young children and adults, budget friendly, and easy to store. Buying ingredients in bulk is a good way to save money and have extra ingredients to make this recipe in the future. A homemade soup can often be healthier than store-bought. Many canned soups contain high levels of sodium. This makes for an easy and healthy meal to make together as a family.  

Ingredients
1 tablespoon olive or vegetable oil
2 cloves garlic, finely chopped
8 medium green onions, sliced (1/2 cup)
2 medium carrots, chopped (1 cup)
2 cups cubed cooked chicken
2 cups uncooked egg noodles (4 oz)
1 tablespoon chopped fresh parsley or 1 teaspoon parsley flakes
1/4 teaspoon pepper
1 dried bay leaf
6 cups Progresso™ chicken broth (from two 32-oz cartons)
Cooking
In a large saucepan, heat oil over medium heat. Add garlic, onions, carrots and cook for 4 minutes while stirring occasionally.
In a smaller pan cook the chicken until golden brown. Tip: Buying pre-cooked chicken like rotisserie chicken will also work.
Add chicken broth, parsley, noodles, chicken, bay leaf, and pepper into the large saucepan. Heat to a boil, then reduce heat to a simmer for 10 minutes. Stir occasionally until the noodles and carrots are tender. Remove bay leaf before serving.
Nutrition
Serving Size: 1 Serving
Calories 300 Calories from Fat 110
Total Fat 12g 18%
Saturated Fat 2.5g 13%
Trans Fat 1/2g
Cholesterol 80mg 27%
Sodium 1450mg 61%
Potassium 390mg 11%