Avocado Deviled Eggs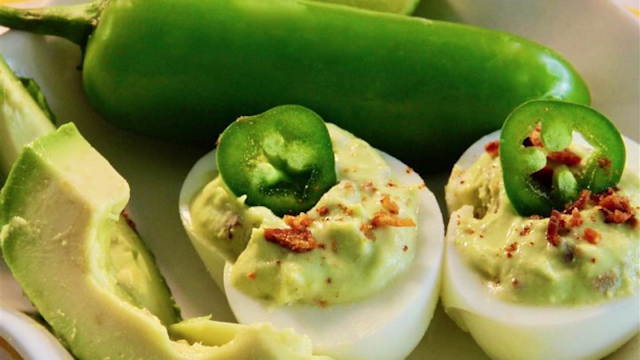 These little tasty morsels are packed with nutrients and flavor. They are a fun twist on your regular holiday side dish! Avocados are packed with micronutrients and healthy fats to keep you full and satisfied throughout the day. Try these out at your next holiday gathering, they are sure to be a big hit!
INGREDIENTS
6 hard-boiled eggs, peeled and halved
1 avocado – peeled, pitted, and diced
3 slices cooked turkey bacon, chopped, divided
2 1/2 tablespoons mayonnaise
2 teaspoons lime juice
1 clove garlic, crushed
1/8 teaspoon cayenne pepper
Sea salt to taste
1 jalapeno pepper, sliced (optional)
1 dash hot sauce, or to taste (optional)
DIRECTIONS
Scoop egg yolks into a bowl; add avocado, 2/3 of chopped turkey bacon, mayonnaise, lime juice, garlic, cayenne pepper, and salt. Mash egg yolk mixture until filling is evenly combined. Spoon filling into a piping bag or plastic bag with a snipped corner. Pipe filling into each egg white; top with a turkey bacon piece, jalapeño slice, and dash hot sauce.
NUTRITION
Per Serving: 105 calories; 8.8 g fat; 2.2 g carbohydrates; 4.6 g protein; 113 mg cholesterol; 162 mg sodium.