Beef Counts for all Families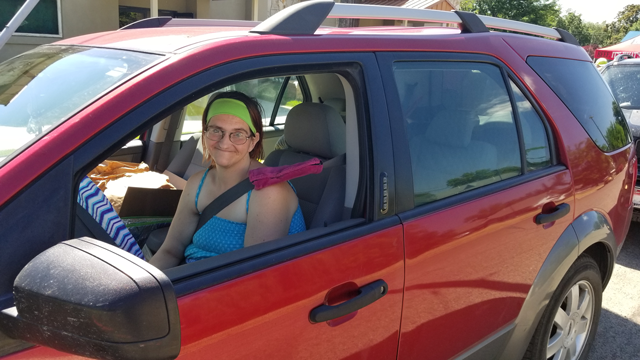 July is beef month in Idaho and The Idaho Foodbank is educating the public on the nutritional value of lean protein. More than 1.5 million 3 oz. servings of beef have been distributed through the Beef Counts program in an effort to 'Give Hunger the Boot.'
This campaign helps feed hungry Idahoans like Vanessa, who recently received a food box at a mobile pantry in a small rural town in Southwest Idaho.
Earlier this year, Vanessa and her husband moved into a new apartment. They're both on fixed incomes and the first few months were difficult because of the deposit and other initial costs. At times, putting food on the table has been a struggle. "By the time we get all of our bills paid, we have maybe $50 to spend on groceries a month," she said. "And we only get $15 in food stamps."
Dealing with economic uncertainty has been difficult for Vanessa and it's played a role in her battle with depression. "It's not easy," she said. "I fight it on a daily basis. My husband is a great help, though." For many food-insecure Idaho families, choosing between paying for food and paying the bills is a weekly struggle. "Because we're on a fixed income, our money goes toward the bills," Vanessa said. "Sometimes we wonder, 'How are we going to eat?'"
Meat protein makes up about 12% of all the pounds The Idaho Foodbank provides to the community. Normally, Vanessa wouldn't be able to afford beef for her family. Fortunately there are wonderful partners like the Beef Council, Agri Beef and the Cattlemen and Cattlewomen Associations who work with The Idaho Foodbank to provide beef protein to hungry Idahoans.
Protein from lean beef is part of a healthy diet and plays a significant role in The Idaho Foodbank's Hunger-to-Health initiative and its quest to 'Give Hunger the Boot.' Thanks to the Beef Counts program and beef partners across the state, more people like Vanessa are able to enjoy this source of protein for their families. "This helps so much," she said. "It's a live saver. It really is."