'Boise Kind' Aims To Define, Preserve And Foster Community's Kind Nature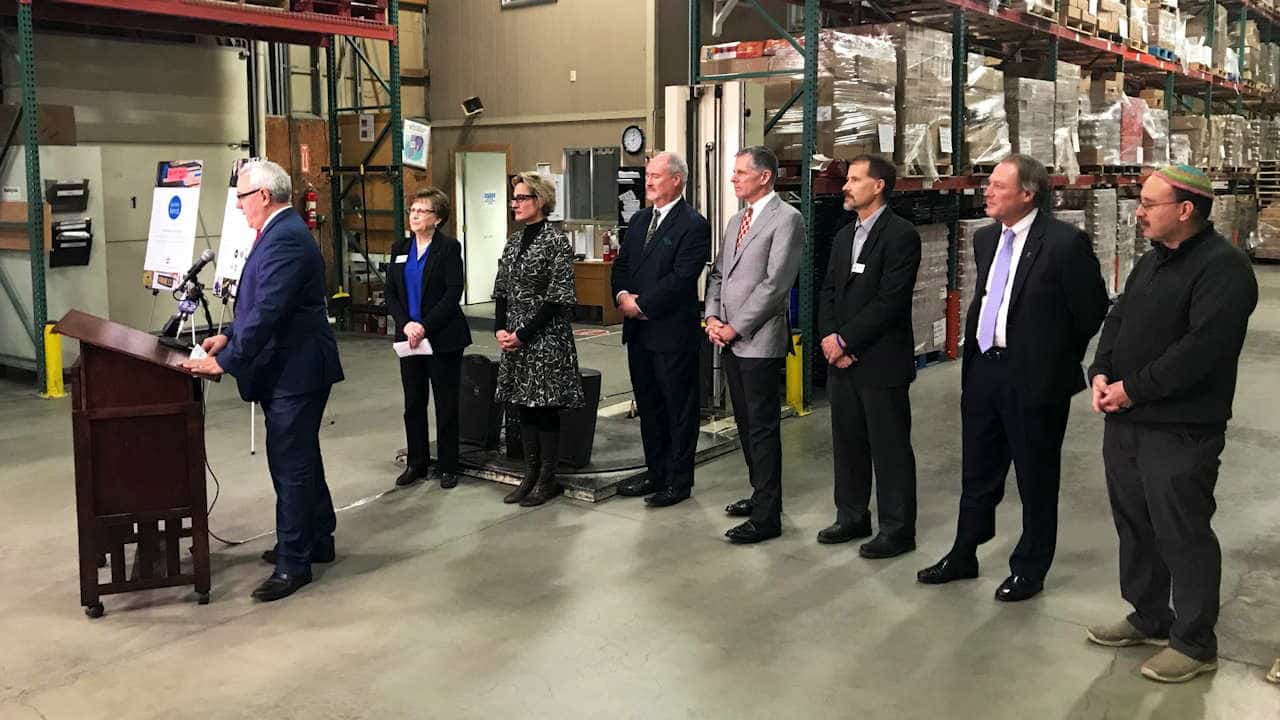 Boise Kind is a community-wide initiative that highlights, protects and promotes the community's core values and helps to ensure Boise remains kind and welcoming.
Mayor David Bieter today announced a new community-wide initiative to highlight, protect and promote the Boise community's core values and to help ensure it remains kind and welcoming.
Called Boise Kind, the initiative was announced by Mayor Bieter and key education, non-profit, corporate and faith leaders from the community who have pledged their support. Mayor Bieter proposed the Boise Kind initiative during his annual State of the City Address in September.
"Kindness, generosity, civility and respect are more than just common courtesy, they are cornerstones of our community," Mayor Bieter said during Tuesday's announcement held in the warehouse of the Idaho Foodbank. "Behind me on these shelves is literally floor-to-ceiling evidence about how much our community cares about its neighbors. If we continue to embrace and openly embody the kindness, civility and respect that has helped build Boise into what it is today, our future will indeed be bright."
Boise Kind is set to formally launch at Treefort Music Fest, March 20-24, and will feature a number of elements, including:
Kindness Count: Document millions of acts of kindness by encouraging and inspiring community members to commit acts of kindness and document them using a digital tool (March 2019).
Boise Day: An annual day of service/volunteering hosted by the City of Boise and initiative partners (Summer 2019).
School Partnership: Partner with the school district on encouraging and documenting acts of kindness among students (Fall 2019).
Other Boise Kind goals include raising money for charitable causes in the city and facilitating grass-roots, resident-led acts that foster kindness. To get immediately involved, Mayor Bieter called on all Boiseans to inspire kindness among their friends and families and to capture and share acts of kindness by using the hashtag #Boisekind.
Joining Mayor Bieter at the podium for Tuesday's announcement were representatives of Idaho Power, the Boise School District, the Boise Metro Chamber, the Boise faith community, the Idaho Humane Society, Treefort Music Fest and The Idaho Foodbank.
The Boise School District will play a pivotal role in engaging Boise's young people in Boise Kind by encouraging and documenting acts of kindness among students to enhance the school district's existing character education curriculum.
"We cannot take Boise's unique culture of kindness for granted or assume it will be absorbed by either the latest arrivals or the next generation," said Dr. Don Coberly, superintendent of Boise Schools. "We must teach it, we must model it and we must live it. We're excited to participate in Boise Kind and share the success of the dozens of kindness, character education and citizenship programs currently taking place in our neighborhood schools."
The Boise Metro Chamber of Commerce will spearhead the effort to broaden Boise Kind's impact among its members.
"In the competition for business, economic development professionals talk about our affordable tax climate, favorable regulatory environment, affordable power costs, and other measurable business metrics," said Bill Connors, CEO of the Boise Metro Chamber of Commerce. "But, Boise's homegrown culture of kindness, brings a special humanity to the economic development discussion. The Boise 'nice factor' is hard to measure, but easy to find, and that is an asset that not only makes this a great place, but also gives us a competitive edge."
The Treefort Music Fest's "authentic Boise" character and inclusive nature, Mayor Bieter said, make it a perfect partner to further Boise Kind's goals.
"Every year, we hear from festival-goers how they were welcomed to Treefort Music Fest and Boise with kindness and compassion," said Lori Shandro, festival co-founder and producer. "Our community is full of people that consistently treat all people with love and respect, and that culture is part of why so many people return to Treefort year after year. We're happy to come together with so many great people and organizations to encourage the kindness that already exists in our neighborhoods, communities and entire city."
Idaho Power was also among the first corporate partners to step forward to be part of the initiative.
"Kindness is at the core of Idaho Power's culture," said Darrel Anderson, president and CEO of Idaho Power. "We look forward to participating in Boise Kind and helping to make a difference in our Boise community today, and for generations to come."
The Idaho Foodbank, who hosted the announcement, is a focal point of the community's generosity and concern for neighbors who need help.
"Each day, we have the fortune of witnessing firsthand the generosity in this community," said Karen Vauk, president and CEO of The Idaho Foodbank. "We are excited to partner with the City to highlight the great acts of kindness already happening in the area and to encourage others to find what drives them – be it volunteer work or other projects that give Boise that undeniable community-first culture it's known for."
The Idaho Humane Society is joining the Boise Kind effort to highlight that kindness to animals is also a key measure of a community's spirit.
"The strength of our city is reflected in how we treat each other, and especially how we treat the most vulnerable and powerless in our community, which also includes animal," said Jeff Rosenthal CEO of the Idaho Humane Society. "We support this effort to inspire acts of kindness, of any type and towards any need, and whether big or small. Everyone can make a difference."
A central element of Boise Kind will be the faith community's involvement. Rabbi Dan Fink was among the first Boiseans to approach Mayor Bieter about being involved in Boise Kind after the mayor's State of the City address.
"Kindness is, indeed, the truest measure of a community," said Rabbi Dan Fink of the Congregation Ahavath Beth Israel. "The Torah begins with an act of kindness as God clothes Adam and Eve, and ends with another, as God buries Moses. From birth to death, we are called to kindness. Let's take this seriously and make kindness the defining feature of our city." 
###
About the City of Boise: Our vision is to make Boise the most livable city in the country by fostering vibrant communities, innovative enterprises and lasting environments on behalf of our nearly 225,000 residents. Visit cityofboise.org to learn more.