Boise State Football Player Raises Hunger Awareness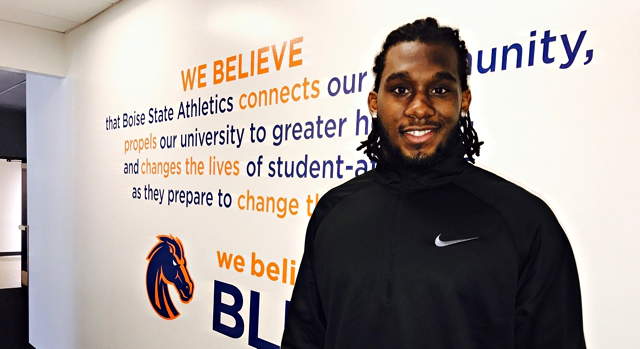 It was a late night in his native San Bernadino when Alexander Mattison, now a Boise State football player, came to learn how important his parents were in keeping his life together.
While dropping off his cousin, Mattison witnessed a crime scene after a shooting. For years, he and his family had endured hunger and homelessness, sometimes turning to his aunt and uncle for refuge. But after seeing the life his cousin was having to survive, with shootings and danger in his neighborhood, the precarious nature of Mattison's situation became clear.
"The drugs, the gangs, the prostitution — everything, I grew up seeing it around the corner on the way home from school," said Mattison. "As I got older, seeing that stuff, I knew how to deal with it, but just not being a part of it was so valuable to me. I could have been one of those kids who ended up in a gang. I could have been one of those kids that disrespected their parents and ended up doing drugs at a young age. There are so many different types of situations that I could have ended up in that my parents helped us avoid."
Mattison's parents made one thing clear — if he wasn't successful in school and if he didn't stay out of trouble, he would not be allowed to compete in football. That parental involvement kept Mattison's grades up, kept him active in his community and enabled him to reach his goals and obtain a scholarship to play football at Boise State.
Now, he's helping The Idaho Foodbank raise awareness. Spreading the word of what even a small gift can mean to a child in need. And he's speaking from experience.
"I valued that stuff. I valued whenever someone would go out of their way to give me a gift or something," said Mattison. "It just held so much weight for me because I wasn't able to have that as a kid. It's so important to have support these days because, if you don't have it, the support coming from somewhere else means so much to kids."
If you want to learn more about ways you can help, click here.