Chobani Helps Idaho Foodbank Purchase Food Truck to Support Food Donations in South Central Idaho & Magic Valley
April 30, 2020—Through a grant provided by Chobani, LLC The Idaho Foodbank this week welcomed a new refrigerated food truck. The truck will be dedicated to serve South Central Idaho, including the Magic Valley, to provide greater access to nutritious food to assist families, children and seniors facing hunger.
The Chobani grant has funded the purchase of a truck to make donations of nutritious food, including Chobani products, in Twin Falls, the Magic Valley, and throughout the South Central region of Idaho. The grant will also allow The Idaho Foodbank to hire a part-time driver to help support local donations. The truck is expected to be operational in the South Central region by June.
Chobani's donation will support the region's food insecure residents at a time when the majority of The Idaho Foodbank's partner network have reported that they are experiencing up to a 50% increase in demand for food, driven by the impact of COVID-19 on the state's economy. Food insecurity affects 210,000 people across the state of Idaho, a figure that reflects conditions before the impact of the COVID-19 pandemic.
"It's about community especially in these trying times and we want to do our part by helping Idaho families — especially at a time when so many food banks are facing unprecedented demand," said Peter McGuinness, President of Chobani. "We're honored to support our longtime partners at The Idaho Foodbank and our friends and neighbors in the Magic Valley and across Idaho."
"As a statewide nonprofit we are proud to collaborate with Chobani to provide increased access to nutritious food, including Chobani products, in Twin Falls and throughout the South Central region of Idaho," said Karen Vauk, President and CEO of The Idaho Foodbank. "This refrigerated truck will allow us to deliver essential dairy and perishable protein products to partners, churches, shelters, and schools throughout the region. We are grateful for Chobani's "all in" partnership to end hunger in Idaho— providing food, funds and support during this crisis and year-round."
Chobani and The Idaho Foodbank have been long-standing partners, working together since 2014 in a sustained joint effort to fight hunger in Idaho. Over the course of the first five years of the partnership, Chobani has donated nearly 3 million pounds of food to The Idaho Foodbank.
Since day one, Chobani has donated products and supported impactful charitable projects and programs to strengthen the communities we call home, improve childhood nutrition, and help those in need wherever they may live. On top of the company's steady donations to the Magic Valley, Chobani also recently launched the Chobani Pantry, an initiative to send trucks regularly to food banks who desperately need supplies across the U.S. Since the COVID-19 pandemic began, Chobani has donated over 2 million cups of yogurt (and counting) to communities across the U.S.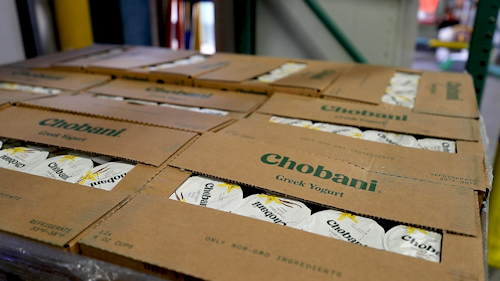 About Chobani
The maker of America's No. 1–selling Greek Yogurt brand and the second-largest yogurt manufacturer in the U.S., Chobani, LLC, was founded on the belief that people have great taste—they just need great options.