Cooking Matters at the Store


Cooking Matters at the Store was created in 2010 as a spinoff of the highly successful grocery store tours from the Cooking Matters courses. Courses take place in a local grocery store, and can be led by a variety of individuals in the community.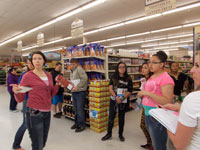 Along with the regular curriculum, there is also a specialized curriculum for participants in the USDA WIC (Women, Infants and Children) nutrition program to increase understanding of the WIC program shopping guidelines.
Families with limited food resources often report that the cost of groceries is a barrier to eating healthfully. These courses teach shopping and meal planning skills that help families stretch their food budgets and prepare healthy, balanced meals at home. Cooking Matters at the Store is a one-time, two-hour class, and each participant is able to take home a booklet with recipes and shopping tips, a reusable grocery bag, and $10 worth of healthy groceries.
---
Cooking Matters at the Store
During the tour, participants learn four key skills:
Reading food labels
Comparing unit prices
Finding whole grains
Identifying 3 ways to purchase produce
Interested in taking a Cooking Matters at the Store Tour?