Donations for North Central Idaho Wildfire Assistance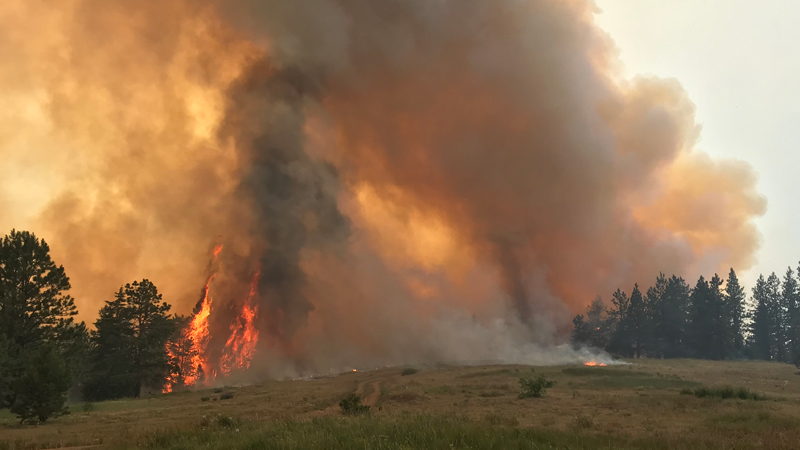 Donations to help firefighters and people who have been displaced due to the wildfires in North Central Idaho can be made to several dependable charity organizations in Lewiston.
Twin County United Way and Erb's Ace Hardware are continuing to take drop-off donations for firefighters.
According to the Idaho Department of Lands calls continue to come in from Idahoans and businesses who want to help wildland firefighters during this time of unprecedented heat and fire conditions. But some donations that are brought to various offices or fire camps, such as food, are not suitable for use by fire crews. The Idaho Department of Lands has developed a new webpage called Donations to the Fireline which shares what donations are most needed, and how to get those donations in the hands of firefighters and support crews.
Other Ways to Donate:
The Idaho Foodbank, 3331 10th St., Lewiston. Drop off hours are from 8:00 am – 3:00 pm Monday – Thursday, and 8:00 am – 1:00 pm on Friday. Fruits, vegetables, proteins, grains, dairy, pantry staples, and personal care items are needed most; nonperishable items also are welcome. Monetary donations can be made at idahofoodbank.org/donate.
A list of Lewiston area food banks can be found at this link: bit.ly/3B3NBSh.
The American Red Cross can take monetary donations for specific communities at rdcrss.org/3i8OArX.
---
From the Nez Perce County Emergency Wildfire Page:
We encourage people to monitor their health and air quality status:
Air Quality Guide for Particle Pollution (www.airnow.gov)
General Information:
There is concern about scammers trying to get people to donate for the fires. There are many organizations that are involved in these efforts and many established organizations in our community participating in these efforts. The County is working with several organizations and greatly appreciate their help:
City of Lewiston – Temporary Evacuation Points
Nez Perce County Fairgrounds – Temporary Evacuation Points – overnight RV spots for displaced evacuees.
Twin County United Way – food donations for firefighters can be dropped off at Erb's Ace Hardware
American Red Cross – evacuee shelter (they can accept monetary donations, and they can be designated so they stay locally)
Idaho Food Bank
There are several local businesses and organizations that will help with large and small animals and pets. There are several organizations in the valley accepting food and water donations for firefighters.
We want to remind people to use trusted and established organizations for donations.
American Red Cross Shelter: Autumn Gibson – Disaster Program Specialist
Echo Hills Church
3215 Echo Hills Dr
Lewiston, ID 83501
The shelter number is 509-508-1299
Nez Perce County Fair Site – for those that have campers/RVs: Jan Alldredge – Business Manager
NPC Fairgrounds
1229 Burrell Ave
208-743-3302 – call to make arrangements
READY, SET, GO! Please watch for announcements on social media and SIGN UP FOR ALERTS: AlertSense
https://inciweb.nwcg.gov/incident/7636/
Additional travel and fire information:
If you need food visit The Idaho Foodbank's