Double Delivery Gives Seniors Relief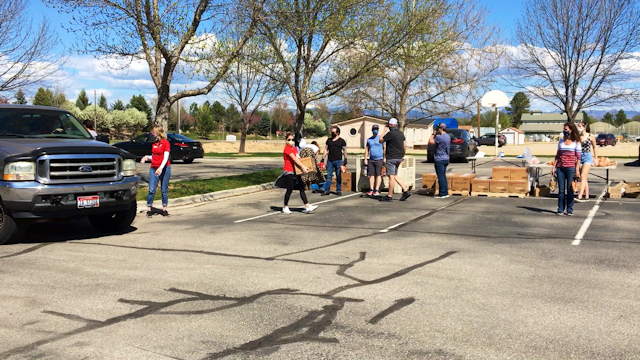 [embedyt] https://www.youtube.com/watch?v=9m_HAX_Q_iM[/embedyt]
The COVID-19 pandemic has hit our elderly population hard. Early in the crisis the Centers for Disease Control and Prevention (CDC) announced that adults 65 years and older along with people living in nursing home or long-term care facilities were at higher risk to contract severe illness from COVID-19. Many national and local organizations stepped up immediately to support this vulnerable population in response to this prediction.
Holy Apostles Church in Meridian and the Commodity Supplemental Food Program (CSFP) is a wonderful example of combining federal food assistance with a local touch. The church runs a food pantry and distributes CSFP food boxes monthly to seniors through a partnership between their Society of St. Vincent de Paul members and The Idaho Foodbank. According to society member and pantry manager, Cathy Hagadone, the collaboration with The Idaho Foodbank has been a blessing. "We appreciate all the services The Idaho Foodbank provides. They are in constant contact with us about the needs for our little pantry. Their Food Rescue has also made a huge difference in the variety of food – produce, eggs and meat – we can offer to people who seek our assistance," said Hagadone.
The food boxes are a vital necessity for the seniors in the community, so the program had to be adjusted quickly in order to keep this service safe and accessible. The distribution was transitioned to a drive-thru model; where neighbors stayed in their cars and volunteers put the food boxes directly into trunks or backseats to limit contact. Due to the crisis guidelines allowed seniors 2 boxes in one month; double the amount of food so elderly neighbors would have nourishing essentials now and will not have to risk leaving their homes again in another month. This double distribution took place at the Holy Apostles Church in April. Approximately 40 households were served within 1 hour thanks to Society members along with volunteers from Quest Groups. "People don't choose to be poor. I believe people are doing the best they can, so it is a pleasure to help. We have plenty and we want to make sure that they do too," said Hagadone.
If you need help or are interested in lending a hand, please go to: svdpid.org