November 1, 2022 @ 8:00 am

-

December 25, 2022 @ 5:00 pm
Santa Turkey Bucks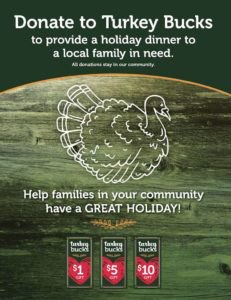 Starting in 2005, the Albertsons Turkey Bucks campaign has raised funds for The Idaho Foodbank to provide food for holiday meals to Idahoans in need. This year, customers will be given the opportunity to donate to The Idaho Foodbank when they pay for their purchases at multiple Albertsons stores raising money to provide food for meals this holiday season.
Feeding the 5000 Families
Pocatello's Interfaith Community
About
Pocatello's Interfaith community is bringing back Feeding the 5000. We are truly looking forward to this multiple event campaign. Please come enjoy yourselves and support these efforts to help individuals in Eastern Idaho who are struggling with food insecurity.
The Kickoff Concert: Friday, February 18th starting at 7:00pm being held at Central Christian Church, 918 E. Center Street.
Progressive Dinner: March 11th beginning at 5:30pm.
Station 1: Appetizers, soup, and salad: Central Christian Church, 918 E. Center St.
Station 2: Main Course: Church of Jesus Christ of Latter-day Saints, Caldwell Park Building, 135 S. 7th Ave.
Station 3: Dessert: St. Anthony Parish, 524 N. 7th Ave.
Candlelight/Meditation vigil: March 18th, time TBD held at Community of Christ, 4588 Bannock Hwy.
Grocery store Food and Fund drive: April 8th from 10:00am to 4:00pm
Participating grocery stores are Albertsons, Fred Meyer, Ridley's on Pocatello Creek Rd, Ridley's on Main St.
Closing Ceremony: time and place to be announced.