November 1, 2022 @ 8:00 am

-

December 25, 2022 @ 5:00 pm
Santa Turkey Bucks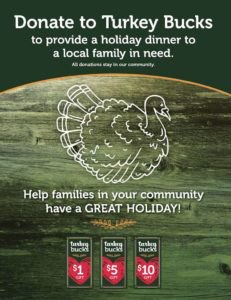 Starting in 2005, the Albertsons Turkey Bucks campaign has raised funds for The Idaho Foodbank to provide food for holiday meals to Idahoans in need. This year, customers will be given the opportunity to donate to The Idaho Foodbank when they pay for their purchases at multiple Albertsons stores raising money to provide food for meals this holiday season.
Empty Bowls
Pocatello Arts Council
About
The Pocatello Art's Council along with the ISU Arts department are excited to hold its 4 Annual Pocatello Empty Bowls event Friday, December 2nd, 2022. This event benefiting the Idaho Foodbank, will be held at Westside Players Warehouse.
Beautiful handmade bowls will be there for you to choose from. Along with the purchase of a bowl, you will be able to enjoy your choice of soups, locally made bread, and beverages for dinner. Westside Players will also be selling adult beverages if you're so inclined.
Entertainment will also be provided by local musicians. We will also have the pleasure of providing awards to Pocatello artists recognizing them and their talent.
Location
1009 S 2nd Ave
Pocatello, ID 83201
Map It