March 11 @ 5:30 pm

-

7:30 pm
Progressive Dinner – Feeding the 5000 Families Food Drive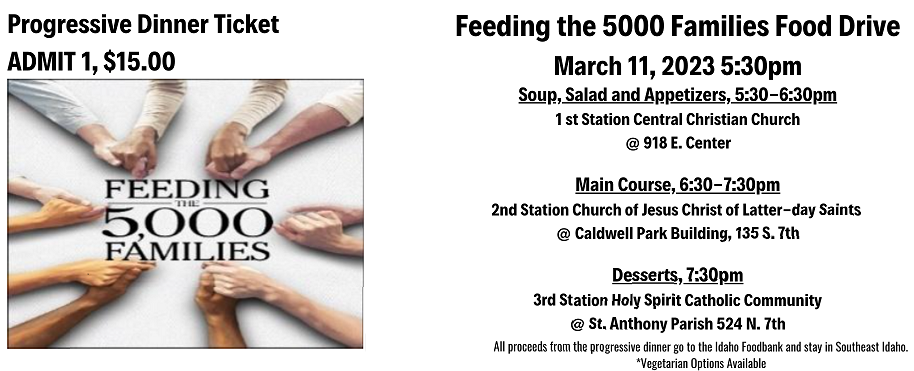 Please join us Saturday, March 11th in Pocatello for the 24th annual Feeding the 5000 Families Progressive Dinner.
Purchase Tickets:
Idaho Foodbank Warehouse, 555 S. 1st Ave or at the 1st station on the event.
Soup, salad, and appetizers will be offered at the 1st station beginning at 5:30 at Central Christian Church 918 E. Center. The main course will follow at the Church of Jesus Christ of Latter-day Saints at the Caldwell Park Building, 135 S. 7th from 6:30 to 7:30. Desserts will then follow at Holy Spirit Catholic Community at St. Anthony Parish 524 N. 7th beginning at 7:30pm. Vegetarian Options will be available. All proceeds from this dinner will benefit our Eastern Idaho neighbors struggling with food insecurity.
About
KTVB wants to help build a stronger community safety net for basic human needs as well as foster a community spirit of neighbor helping neighbor. All donations (cash and non-perishable food) will go to help The Idaho Foodbank, Boise Rescue Mission, and Salvation Army locations keep their shelves fully stocked and purses full during the winter months when the need for food, shelter, and aid increases. This is the 15th year of 7Cares Idaho Shares.