March 11 @ 5:30 pm

-

7:30 pm
Progressive Dinner – Feeding the 5000 Families Food Drive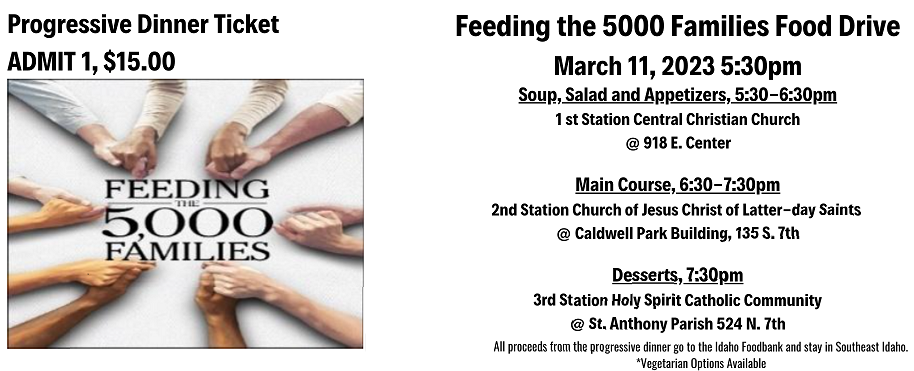 Please join us Saturday, March 11th in Pocatello for the 24th annual Feeding the 5000 Families Progressive Dinner.
Purchase Tickets:
Idaho Foodbank Warehouse, 555 S. 1st Ave or at the 1st station on the event.
Soup, salad, and appetizers will be offered at the 1st station beginning at 5:30 at Central Christian Church 918 E. Center. The main course will follow at the Church of Jesus Christ of Latter-day Saints at the Caldwell Park Building, 135 S. 7th from 6:30 to 7:30. Desserts will then follow at Holy Spirit Catholic Community at St. Anthony Parish 524 N. 7th beginning at 7:30pm. Vegetarian Options will be available. All proceeds from this dinner will benefit our Eastern Idaho neighbors struggling with food insecurity.
Empty Bowls
Pocatello Arts Council
About
The Pocatello Art's Council along with the ISU Arts department are excited to hold its 4 Annual Pocatello Empty Bowls event Friday, December 2nd, 2022. This event benefiting the Idaho Foodbank, will be held at Westside Players Warehouse.
Beautiful handmade bowls will be there for you to choose from. Along with the purchase of a bowl, you will be able to enjoy your choice of soups, locally made bread, and beverages for dinner. Westside Players will also be selling adult beverages if you're so inclined.
Entertainment will also be provided by local musicians. We will also have the pleasure of providing awards to Pocatello artists recognizing them and their talent.
Location
1009 S 2nd Ave
Pocatello, ID 83201
Map It