Stamp Out Hunger 2019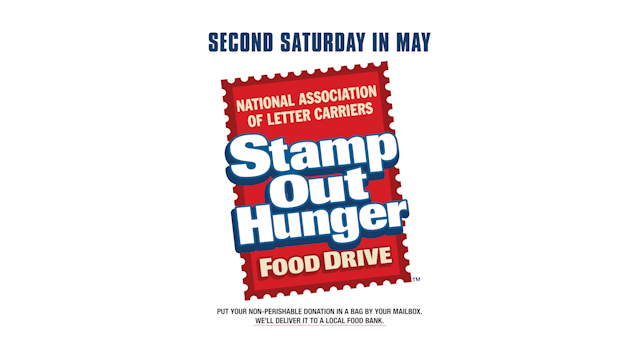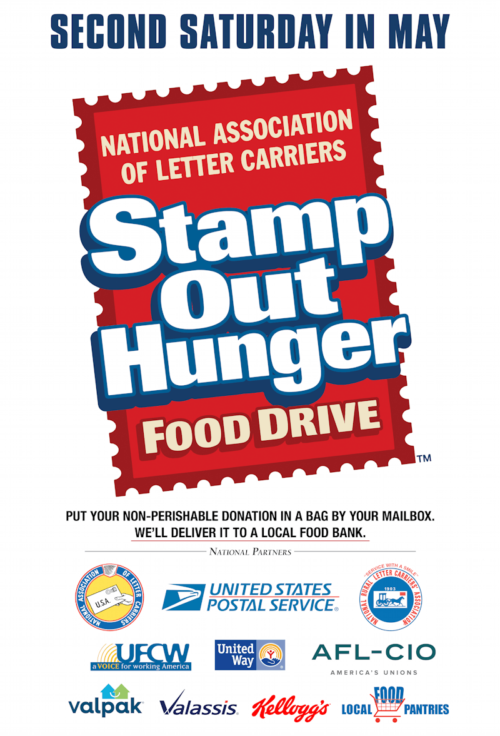 The 27th annual Letter Carriers' Stamp Out Hunger Food Drive is May 11, the second Saturday in May.
Stamp Out Hunger is the largest one-day food drive in the United States. Since 1993, when the national food drive began, letter carriers in every part of the country have worked with family members, friends, other postal co-workers and allies to use the second Saturday in May as a day to give back.
This time of year, the shelves of food pantries and other charitable organizations often are nearly empty. This is an important food drive that helps replenish low inventories for the summer months.
Food donations go to The Idaho Foodbank and its partner network for distribution to communities in Idaho.
Stamp Out Hunger one of our largest food drives of the year, and we need your help to feed hungry Idahoans!
This year you can also donate online:
How to Participate
On May 11, set out your food well before your letter carrier's normal pick-up time. Note that he or she will be delivering and collecting mail as usual, on top of collecting food donations, so that pickup time could be slightly later than usual.
You can also take food donations to any of the following locations:
Main Post Office: 770 S. 14th Street
Cole Post Office: 3485 N. Cole Road
Five Mile & Overland: 1350 S. Five Mile
Overland Post Office: 1650 W. Targee
Garden City Post Office: 8100 W. Marigold
Eagle Post office: 141 N. Palmetto
Collister Post Office: 4650 W. State Street
Albertsons (Five Mile & Ustick): 10700 Ustick Road
Bogus Basin Road: 2594 Bogus Basin
Most Needed Items:
Fruits and Vegetables
Canned vegetables
Fruits canned in juice or extra light syrup
100% fruit and/ or vegetable juices
Tomato products and pasta sauces
Grains
Whole grain pasta
Regular or instant brown rice
Plain oats/oatmeal
Whole grain cereals with low sugar
Pantry Staples
Canola or other cooking oils
Whole wheat or all-purpose flour
Baking powder and baking soda
Dried herbs and spices
Sugar
Proteins
Canned or dried beans and peas
Unsalted nuts
Canned meats and fish (low sodium)
Canned meals(soup, stew, chili, etc.)
Peanut or other nut butters
Dairy
These items must be boxed, canned, or dehydrated so they are shelf-stable
Non-fat or low-fat milk
Milk alternatives (rice, soy, almond)
Personal Care Items
Toilet paper
Diapers
Toothpaste and toothbrushes
Soap and Shampoo
Deodorant