Evidence for Effectiveness of Cloth Face Coverings
To reduce the spread of COVID-19, CDC recommends that people wear cloth face coverings in public settings when around people outside of their household, especially when other social distancing measures are difficult to maintain.
Recently we began requiring that our volunteers wear face masks. Cloth face coverings are recommended as a simple barrier to help prevent respiratory droplets from traveling into the air and onto other people when the person wearing the cloth face covering coughs, sneezes, talks, or raises their voice. This is called source control. This recommendation is based on what we know about the role respiratory droplets play in the spread of the virus that causes COVID-19, paired with emerging evidence from clinical and laboratory studies that shows cloth face coverings reduce the spray of droplets when worn over the nose and mouth. COVID-19 spreads mainly among people who are in close contact with one another (within about 6 feet), so the use of cloth face coverings is particularly important in settings where people are close to each other or where social distancing is difficult to maintain.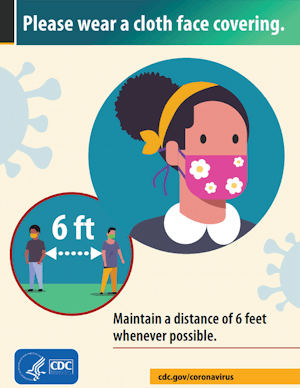 Links for More Information:
Free Face Masks are Available
The HHS Partnership Center is supporting HHS and FEMA's efforts to make face coverings widely available in order to limit the spread of COVID-19. The face coverings, produced and delivered in partnership with USPS and the National Council of Textile Organizations, are being made available to community-based organizations at no cost (and while supplies last). Please feel free to share this important information with additional partners (community-based organizations, non-profit organizations, faith-based organizations).
Click below for information on the face coverings and how to order:
https://asprwgpublic.hhs.gov/aspcc/facecover/Pages/default.aspx
A few things to note:
Face coverings are 100% Cotton Jersey, bind around face and ears, and are treated with a 0.5% OWG Agion AMB-10 Antimicrobial (contains silver and copper, which will help to prevent the growth of viruses and germs. Washable up to 15 times). Adult One-size fits all.
They do not replace the N95 face mask used in healthcare settings and should not be used when caring for those with COVID-19.
They are intended to expand the community's capacity to limit the spread of COVID-19.
The face coverings come in cartons of 500 masks per carton. (Minimum order is one carton) Larger orders may be expedited more quickly.
They are not to be sold and are to be used within US States/Territories/Tribal Nations.
Mor Information
https://www.phe.gov/facecovering/Pages/faq.aspx
Delivery locations must be USPS deliverable addresses.
Allow 10-15 days to process your order. Shipments will vary in arrival time. Please be patient.