Fall Apple Harvest and Recipes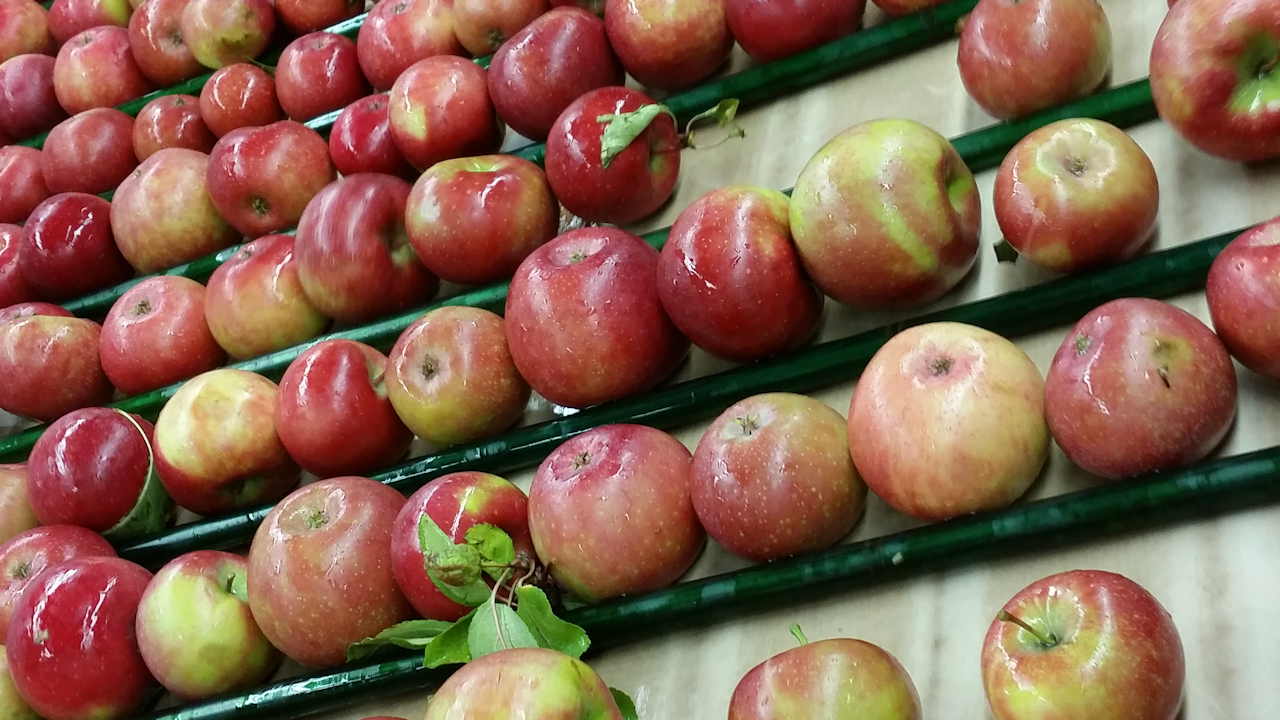 Weather conditions led to an abundant apple harvest this year in Idaho. The Idaho Foodbank works with many Treasure Valley fruit growers and other partners who have generously donated many apple varieties. Apples are one of the most healthy fresh foods we distribute and are great to eat for snacks. In fact, apples were ranked first in Medical News Today's featured article about the top 10 healthy foods.
Apples contain almost no fat, sodium or cholesterol and are nutritional powerhouses. Here's what's packed in every apple:
Vitamin C is a powerful natural antioxidant capable of boosting the body's resistance against infectious agents, according to the University of Maryland Medical Center.
B-complex vitamins (riboflavin, thiamin, and vitamin B-6) are key in maintaining red blood cells and the nervous system in good health.
Dietary fiber can help prevent the development of certain diseases and may help prevent the amount of bad cholesterol in your blood from rising.
Apple Recipes
Need some ideas on what to do with all your apples? Carly Metcalf, nutrition education specialist for The Idaho Foodbank, compiled some fun, healthy recipes for you:
Apple Carrot Soup
Serves: 8
Ingredients
1 pound pork (lean, cut into chunks)
4 apples (with skin, cored and quartered)
4 carrots (large, peeled and cut into chunks)
orange peel (dried, 1 teaspoon, optional)
4 slices ginger
1/2 teaspoon salt
20 cups water
Directions
In a large pot over high heat, combine all ingredients, bring to a boill.
Reduce heat to medium and simmer until soup reduces to about 8 cups of liquid, about 3 to 4 hours.
Skim fat from surface and serve.
Store leftover soup covered in the refrigerator for up to 3 days.
Apple-Stuffed Squash
Serves: 8
Ingredients
4 acorn squash (washed)
1 tablespoon butter (or margarine)
2 apples (chopped)
6 teaspoons brown sugar (2 Tablespoons, packed)
1/2 teaspoon cinnamon
Directions
Cut squash into halves and remove seeds. Place in a glass dish, cover with plastic wrap and microwave on high for 5 minutes.
Melt butter in a separate bowl in the microwave. Mix in apples, sugar, and cinnamon. Microwave for 1½ minutes.
Spoon apple filling into each squash half. Cover and microwave on high for 3-5 minutes until squash and apples are tender. Serve warm.
[label style="info" icon="fab fa-apple"]Nutrition Factoid – Did you know that you shouldn't peel your apple! Two-thirds of the fiber and lots of antioxidants are found in the peel. Antioxidants help to reduce damage to cells which may help prevent some diseases![/label]
Apple Snack Dip
Serves: 6
Ingredients
1/4 cup peanut butter (creamy)
1/8 cup orange juice (2 Tablespoons)
1/2 cup yogurt, low-fat vanilla
Directions
In a small bowl, mix the peanut butter and orange juice until smooth.
Stir in the vanilla yogurt.
Cover and put in the fridge until chilled.
Serve with sliced apples
Fat-Free Apple Crumb Dessert
Serves: 4
Directions
Move the oven rack to the center of the oven. Then preheat the oven to 350 degrees.
Spray the bottom and sides of a 9″ square baking dish with nonstick cooking spray.
Wash and peel the apples. Cut them into thin slices.
Spread the apple slices evenly over the bottom of the baking dish.
In a small bowl, use a fork to mix the oatmeal, brown sugar and cinnamon.
Spread the oatmeal mix evenly over the apples in the baking dish.
Lightly pour the apple juice over the oatmeal mixture.
Cover the dish and bake for 20 to 30 minutes until apples are just starting to soften.
Uncover and bake for another 15 to 20 minutes until apples are soft.
Dietitian Tip: Eating your fruits and vegetables is very important. But if you are finding it difficult to eat them, don't be afraid to add some extra ingredients like a sweet/savory dip. You are still getting all the benefits of the fruit or vegetable!
Recipes from whatscooking.fns.usda.gov