Farmers to Families Food Box Program helps Feed the Hungry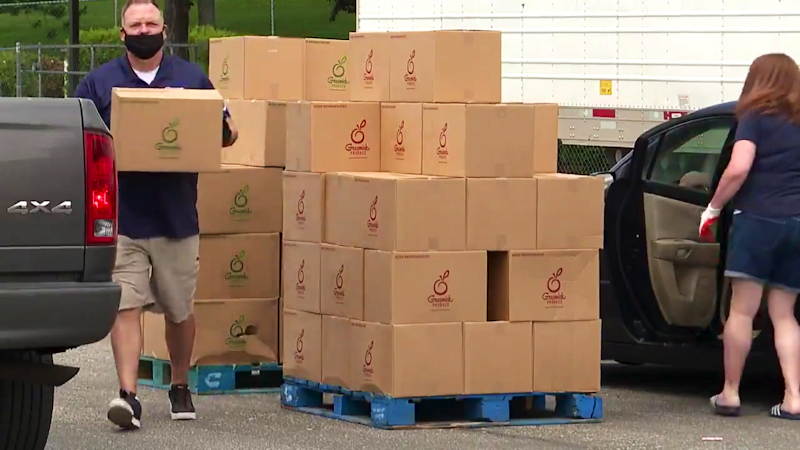 https://www.kivitv.com/rebound/rebound-idaho-farmers-to-families-food-box-program-helps-feed-the-hungry
NAMPA, Idaho — Fighting hunger, one box at a time.
Hundreds of Idahoans lined up in their cars Thursday afternoon at Nampa's Ford Idaho Center for free boxes of farm-fresh food courtesy of the USDA's Farmers to Families Food Box Program — part of its Coronavirus Food Assistance Program (CFAP).
To help our farmers who've been hit hard by the impacts of the pandemic, the USDA purchased hundreds of millions of dollars worth of fresh fruits and vegetables, meats, and dairy products to be given away for free without eligibility requirements or documentation.
At the peak of the Coronavirus surge, the majority of The Idaho Foodbanks' partners reported at least a 10% – 30% increase in food demand.
"This is an amazing thing that the people have arranged and gotten done for everyone. I just hope that they keep doing things like this, because I know a lot of people still need it," said Jennifer Mettz, a food box recipient.
To maintain health and safety protocols, people stayed in their cars, and volunteers with The Idaho Foodbank placed the food boxes in their trunks or backseats.
Each household got two boxes.
A total of 3,000 boxes (1500 Produce + 1500 Combo of Produce, Dairy & Protein) were distributed.
Source: https://www.kivitv.com/