Albertsons and The Idaho Foodbank Partner to Address Food Insecurity During the Holidays.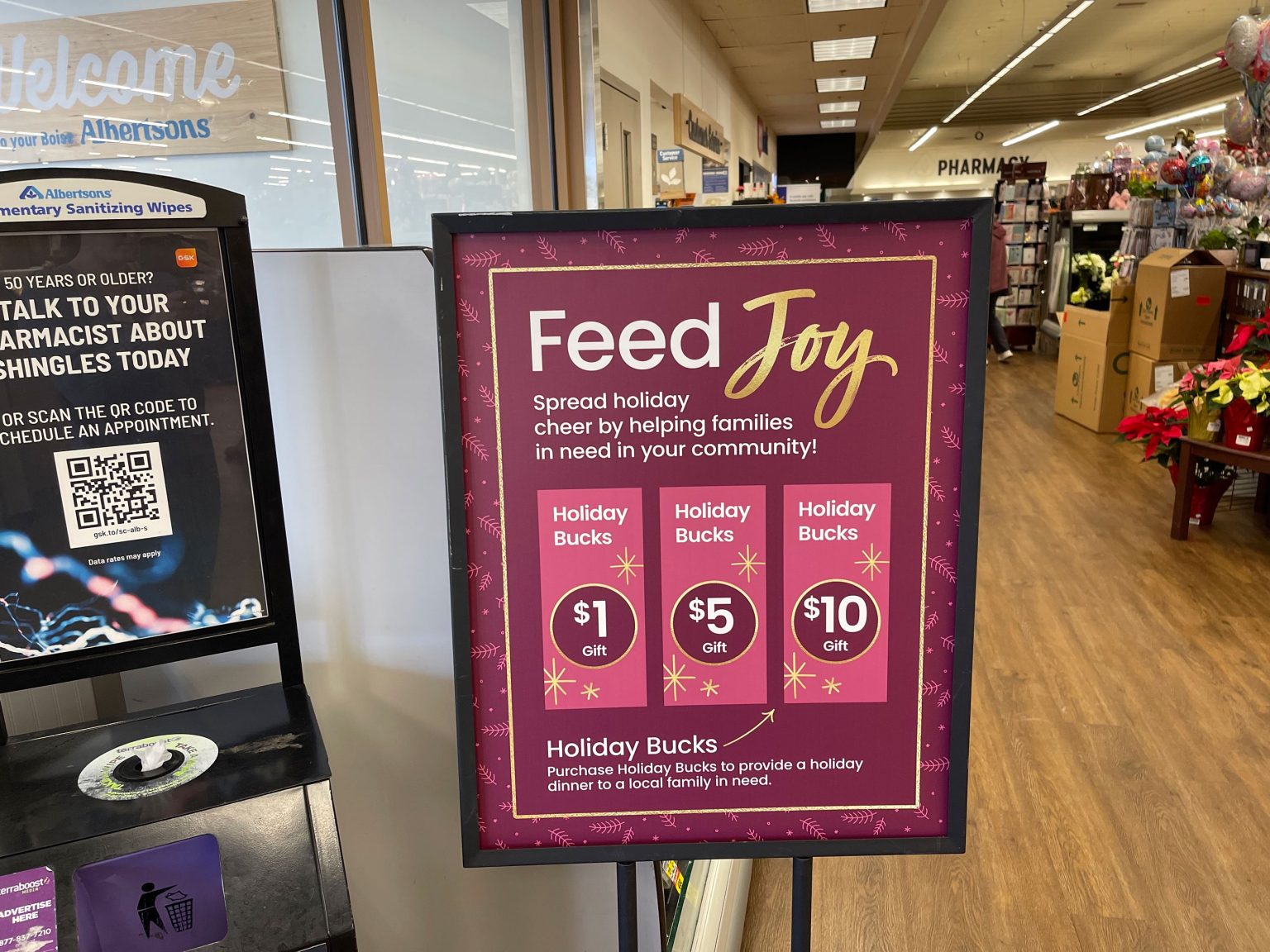 Feed Joy Campaign Continues Through the Holiday Season
Meridian, ID – Albertsons and The Idaho Foodbank are partnering again this holiday season to address food insecurity.
Customers can support The Idaho Foodbank by purchasing Holiday Bucks for the Feed Joy campaign when they pay for their purchases at Albertsons. At this point, the Feed Joy campaign resulted in customers and employees at 11 Albertsons stores donating $75,000 to provide food for holiday meals to Idahoans in need.
Since 2005, the Albertsons holiday campaigns with store associates and customers have provided food and funds for The Idaho Foodbank to help Idahoans who are food insecure have a holiday meal.
"Our customers and hard-working associates show such generosity through these holiday campaigns," said John Colgrove, Division President at Albertsons Companies Intermountain Division. "Albertsons is committed to our longstanding partnership and support for the Idaho Foodbank to provide hunger relief to those in need."
To specifically support the needs of Idaho children facing food insecurity, Albertsons has awarded grant funds to The Idaho Foodbank as part of the Nourishing Neighbors program. The $10,000 from Nourishing Neighbors are used towards the cost of breakfast foods for children in need.
"We appreciate the year-round support of Albertsons and their employees to help Idahoans who are struggling to make ends meet," said Randy Ford, President and CEO of The Idaho Foodbank. "We are incredibly thankful for our partnership with Albertsons as we work together to solve hunger in Idaho."
At the last BSU football home game, Albertsons will present The Idaho Foodbank with a check from their Sacks for Hunger campaign. All season, Albertsons pledged to donate to The Idaho Foodbank for every sack BSU makes at football games at home. Albertsons will present this check at the final BSU Home Game on Friday, November 24th.
If you or someone you know needs food assistance, please go to The Idaho Foodbank's Food Assistance Locator: https://idahofoodbank.org/getfood/.