Girl Scouts and Dairy Farm Families Team Up to Support The Idaho Foodbank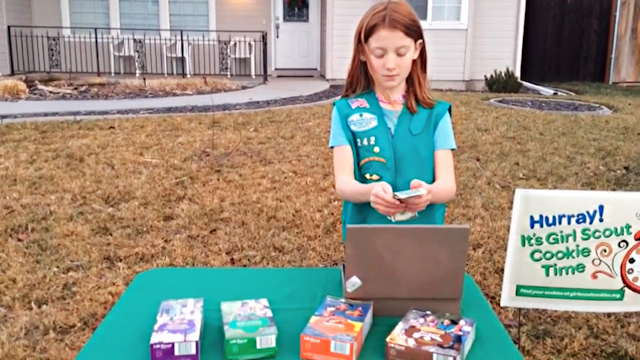 Donate a box of Girl Scout Cookies and milk will tag along
BOISE, Idaho (Jan. 16, 2019) — Girl Scouts of Silver Sage have been selling Girl Scout Cookies for decades. For many customers, this is a can't-miss sale that only lasts a short time — this year from Jan. 11 to March 17 — and the one time a year they can get their hands on a box of Thin Mints or Samoas. Along with the sale, there has always been an option for customers to donate a box of Girl Scout Cookies through the Cookies from the Heart program — and those boxes are donated to the Idaho Foodbank to help those in need.
For the fourth consecutive year, Idaho dairy farm families are partnering with the Girl Scouts of Silver Sage to make that donation go one step further. For every box donated to the Cookies from the Heart program, dairy farmers across Idaho will donate $1, giving customers an opportunity to double the impact of their charitable contribution. A $5 purchase will provide a box of Girl Scout Cookies and help purchase milk by The Idaho Foodbank to help fight hunger in Idaho.
Over the past three years of this program, 23,621 boxes of cookies sold has provided over $33,000 to benefit The Idaho Food Bank.
"Milk is one of the most requested, but least available item at foodbanks," Cindy Miller with Dairy West said. "Dollar for dollar, it's one of the most nutrient-packed items a family can have on the table, providing protein, calcium and eight other key nutrients."
Starting Jan. 11, customers can begin purchasing Cookies from the Heart boxes. Girls will continue taking orders throughout the sale but from Feb. 22 through March 17 Girl Scout troops will be at local retailers, including many Albertsons locations, selling boxes at their cookie booths. Customers can get all their favorites and make a donation — just look for the cookies-and-milk decorated cookie box.
"This generous campaign will provide milk to thousands of Idahoans who are in the most need," Karen Vauk, president and CEO of The Idaho Foodbank, said. "It provides a nutritious staple for Idaho families who may otherwise have to go without. We are so thankful for the efforts to make this campaign happen once again."
In addition to traditional sales, Girl Scouts of Silver Sage is also participating in the Digital Cookie Program, which allows girls to sell online. These customers will also be able to take advantage of this double-donation opportunity. Whether the box is purchased online or in person, they can still donate to Cookies from the Heart.
All Girl Scout Cookie purchases, donated or not, go to support girls and the mission of Girl Scouts — to build girls of courage, confidence and character who make the world a better place. But a box of Cookies from the Heart puts that mission into practice.
Visit www.girlscouts-ssc.org for more information and to find where you can purchase a box of Cookies from the Heart.
ABOUT GIRL SCOUTS OF SILVER SAGE
Girl Scouts of Silver Sage Council is a girl-led youth organization that serves more than 4,000 girls throughout southern Idaho and in parts of Northern Nevada and Eastern Oregon. The council, along with a team of 2,300 local volunteers, delivers educational leadership programs that build girls of courage, confidence, and character who positively impact the communities in which they live. Visit GirlScouts-SSC.org for more details.
ABOUT DAIRY WEST
Dairy West is a regional dairy promotion organization established in 2017 to represent dairy farmers, processors, and supply chain partners in Idaho and Utah. A Qualified Program regulated by the USDA National Dairy Promotion & Research Board, the 501(c)(6) organization raises awareness of the importance of dairy farming, promotes the health and nutritional benefits of dairy foods, and encourages global demand for Western U.S. dairy foods through coordinated marketing and communications efforts, nutrition counseling, and research programs. Visit DairyWest.com for more details.
ABOUT THE IDAHO FOODBANK
The Idaho Foodbank is an independent, donor-supported, nonprofit organization founded in 1984, and is the largest distributor of free food assistance in Idaho. From warehouses in Boise, Lewiston and Pocatello, the foodbank has distributed more than 170 million pounds of food in its 33-year history. In the last fiscal year, the foodbank distributed enough food to provide more than 15.5 million meals to Idaho families. The foodbank distributes food through a network of more than 400 community-based partners. These include schools, pantries, senior centers, feeding sites, and shelters. The foodbank also operates direct-service programs that promote healthy families and communities through good nutrition.