Governor Little Honors The Idaho Foodbank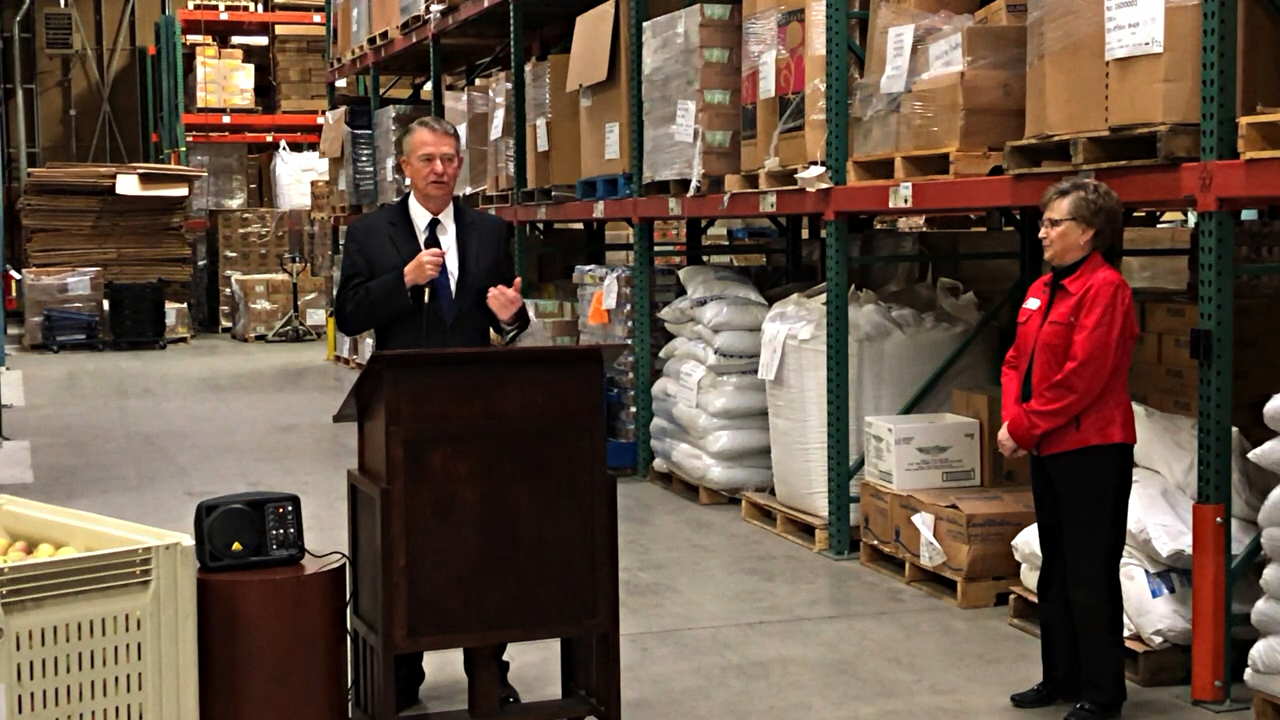 Boise, ID – Governor Brad Little presented The Idaho Foodbank with an official proclamation honoring the nonprofit's 35 years of dedicated service to Idaho Wednesday, October 30, 2019. The ceremony appropriately took place within the organization's Boise warehouse amid palettes of food and fresh produce destine for Idahoans struggling with hunger. The Idaho Foodbank serves over 200,000 people monthly through 400 partners in 44 counties from 3 facilities located in Boise, Lewiston, and Pocatello. In its 35 year history the organization has distributed 221 million pounds of food; the equivalent of nearly 184 million meals to neighbors in need.
According to a May 2019 report from Feeding America, 1 in 8 Idahoans and 1 in 6 Idaho children are food insecure; meaning they live at risk of hunger. "As the only statewide nonprofit addressing food insecurity, it is an honor to acknowledge this milestone in The Idaho Foodbank's history. It is important to recognize The Idaho Foodbank's impact not only in feeding our citizens but providing resources to build resilient and healthier communities," Governor Brad Little said.
On hand to accept the proclamation was Karen Vauk, President and CEO of The Idaho Foodbank. "We know that Idahoans are hardworking, can-do people. We see it every day," said Vauk. "The tough times can be temporary, so it is our mission to get them through to the other side; stronger, wiser and healthier. Sometimes people just need a helping hand to find the confidence and resiliency that lies within."
And the work continues. The organization took this special moment to announce its annual Hope For The Holidays campaign that officially starts November 1, 2019. From Albertson's Turkey Bucks to Pocatello's Cranskgiving, from "7 Cares Idaho Shares" to countless community food drives, The Idaho Foodbank harnesses the powerful Idaho spirit of giving to provide comfort and holiday food for neighbors in need. Last year approximately 2 million meals – turkeys, hams, holiday roasts, mash potatoes, stuffing – were provided to Idahoans struggling to make ends meet. "Every year I am overwhelmed by the generosity of our partners and the community. The food they donate is more than a meal; it is a holiday memory for a family or friend who especially needs some kindness and care," said Vauk.