Governor Little Press Conference August 24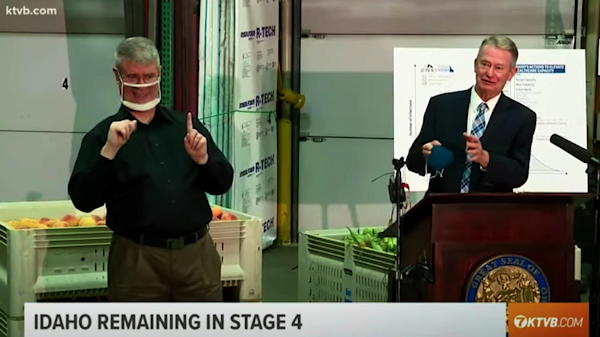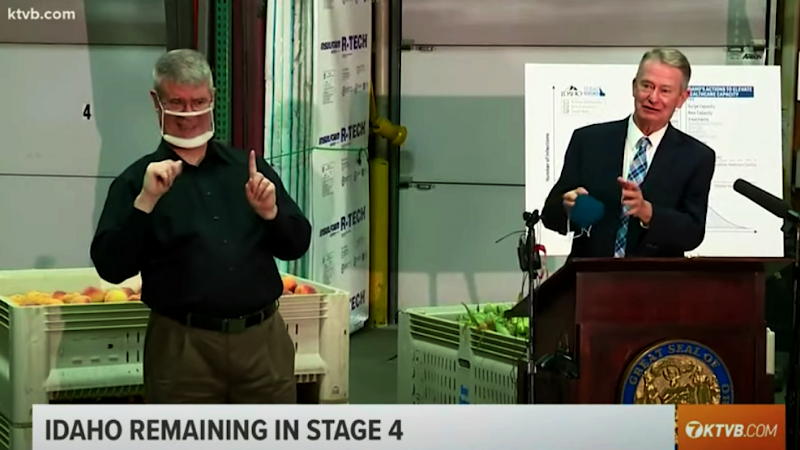 GOVERNOR'S PRESS CONFERENCE AT THE IDAHO FOODBANK SHINES A SPOTLIGHT ON FOOD RELIEF EFFORTS
Governor Brad Little held a press conference at The Idaho Foodbank's warehouse in Boise on August 21, 2020 to highlight the importance of supporting food assistance programs; especially during this unprecedented pandemic. This press conference follows the announcement by the Governor's Coronavirus Financial Advisory Committee (CFAC) that it committed $2.56 million in funds to The Idaho Foodbank earmarked to provide a constant stream of food to support its statewide network of 400+ partners. Representative Melissa Wintrow and Representative Rick Youngblood, who advocated passionately for these funds, were also in attendance. See photo below.
Karen Vauk, President and CEO of The Idaho Foodbank, also addressed the media during this press conference. Below are a few excerpts from her speech.
"Governor Little, it's an honor to have you here at The Idaho Foodbank today. I'd like to join you in thanking Rep Wintrow, Rep Youngblood, Alex Adams and other members of the Coronavirus Financial Advisory Committee for recognizing the need to address food insecurity in our State. We want to thank the Governor and the Committee for providing these funds to support the many Idahoans who are facing very real and unique challenges.
 Of course I am speaking on behalf of The Idaho Foodbank in saying thank you, but today I want to deliver a message on behalf of an even larger group.
 The Idaho Foodbank is a statewide nonprofit organization, but we certainly don't work alone. As the Governor mentioned, we work with a statewide network of more than 400 partners. In addition to the schools, these are the local church pantries, shelters and other nonprofit partners who dedicate themselves to helping their friends and neighbors during times of need. At the onset of the pandemic, these organizations quickly modified their processes to ensure the safe distribution of food, and they met their neighbors with a smile and the reassurance they wouldn't close, that food would be available as long as they had it to give. These organizations, along with our school partners, are our community heroes, and they also appreciate your investment in the well-being and health of Idaho's communities."
 "As families are facing these daunting challenges, we must be there to assist. As they review that tight monthly budget, trying to make the difficult choices of what can and can't be paid, our message is this: apply for Idaho's Emergency Rent and Utility assistance and pay what may not be covered, pay for your medicine so you don't jeopardize your health, then let us help you with the food. Access to healthy food is a fundamental need for everyone, and the commitment of The Idaho Foodbank and our partners is to ensure this need is met across our state. "
 "This funding provided to The Idaho Foodbank will ensure that we're able to acquire and distribute healthy food to our community partners and directly to those in need. In light of the continued uncertainty and stress created by the pandemic, this will allow us to ease the burden of Idahoans, and reinforce good health through the assurance that food will be available for our children, seniors and families. Thank you for your generous support, and for the confirmation that Idahoans take care of each other."