Happy Day Brands Partners with The Idaho Foodbank to Stock Nampa Elementary School Food Pantry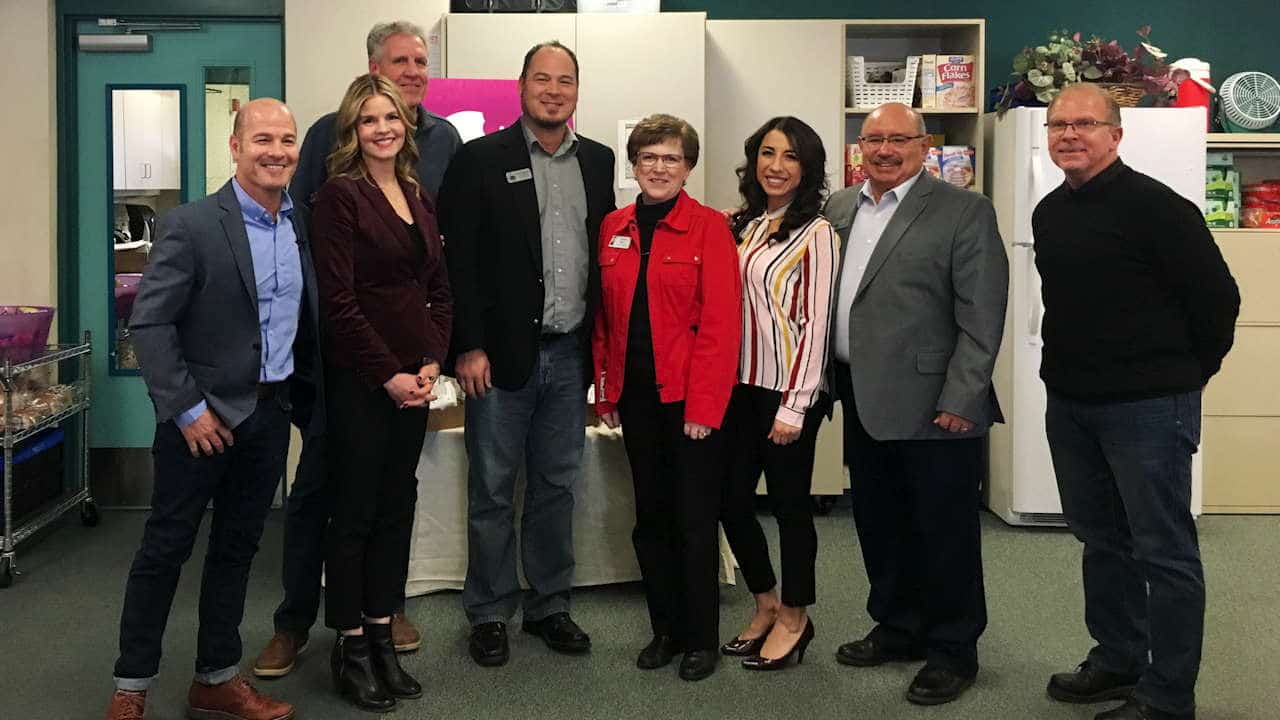 Happy Day Brands and the Idaho Foodbank were joined by Nampa School District officials and members of the Nampa City Council today as the first donation of the 100,000 servings heading to school pantries around the state filled the cupboards of Snake River Elementary School.
"Many of our families here in Canyon County work in the agriculture and construction fields where work is never steady and dies down in the colder months," said Mari Ramos, the family community resource and engagement coordinator for the Nampa School District. "Many times, our kiddos don't know when they will get their next meal at home because their parents simply don't have anything to feed them."
One in six children in Idaho are food insecure. Ramos said that 87 percent of Snake River Elementary's students qualify for free or reduced lunch, and 42 percent of residents near the school live in extreme poverty.
"We come from families where there wasn't always enough food on the table," said Mark Priddy co-founder and CEO of Happy Day Brands. "We know firsthand how important programs like the school pantry are to kids and families in need."
Karen Vauk, president and CEO of The Idaho Foodbank, said the partnership with Happy Day Brands aligns perfectly with The Idaho Foodbank's hunger to health strategy that assures more than 80 percent of food distributed is nutritious.
"It's not a hand out; it's a hand up to help children and their families get through a tough time," Vauk said. Fourteen thousand students attend school in the Nampa district, and nearly 1,400 are experiencing homelessness right now, according to Superintendent Dr. Paula Kellerer, who spoke about the district's commitment to supporting its kids.
Nampa City Councilman Victor Rodriguez said this donation is of particular importance for the many Hispanic families served by the district, and offered his gratitude in both Spanish and English.
Happy Day Brands has pledged 100,000 servings of superfood, gluten-free oatmeal to The Idaho Foodbank's school pantry program over the next year. This is an excellent donation for the students as oats are a natural superfood and 100 percent whole grain.
"We create healthy, socially conscious products that bring people together," said Mark Priddy, CEO and co-founder. "At this special time of year, we're particularly focused on making sure Idaho's children and their families have healthy, nutritious food on their tables."
About Happy Day Brands
Happy Day is a public benefit corporation co-founded by longtime Idaho business leaders and social entrepreneurs Mark and Jeanette Priddy. Happy Day's locally-made products are for sale in seven local Albertsons stores, the Boise Co-Op, Natural Grocers, Whole Foods, as well as coffee shops, cafes, and hotels. Happy Day's superfood oatmeal can be found in 125 Jacksons Food Stores in Idaho and several neighboring states. Every purchase of a Happy Day product provides a meal to those in need. Learn more at www.happydaybrands.com.