Highlighting Everyday Heroes Behind the Masks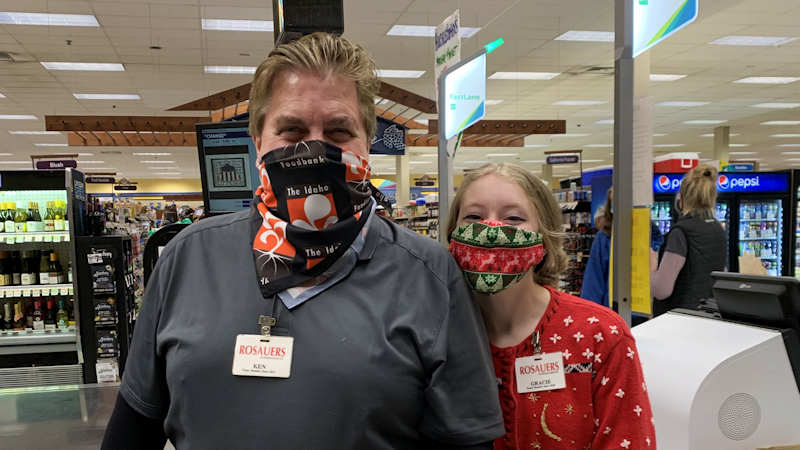 Rosauers in Lewiston, in partnership with Idavend Broadcasting, held the annual Holiday Heroes one-day food drive. Lewiston Rosauers shoppers purchased grocery bags stuffed with festive side dishes and pantry staples for families needing a little help to make their holiday meal special this year. 
Thanks to the support of the community, over 500 households were provided approximately 70 pounds of food staples, fresh produce and special items to create a holiday meal. This is 100 more households served than last year; 100 more families struggling with food insecurity who were given the peace of mind that comes with putting food on the table and knowing their children will not go to bed hungry. 
Rosauers checker Ken Davidson shared, "I enjoy this fund drive because I had a stroke, and I am not able to do physical fundraising like a walk-a-thon. After seven years of working at Rosauers I have developed a good rapport with my customers. I ask them to donate, and they are more than happy to give." Davidson said he, "Always talks loudly enough so the next customer can hear, and they want to participate too. But most importantly, you have to believe 100% in the cause, because if you do, you WILL do well." 
This year he set a goal of selling 50 bags, he was pleased that he sold 63! He says the customers who visit their Lewiston Orchards store are generous people, and he credits the successful event to their generosity. 
The Idaho Foodbank has a lot of everyday heroes to thank – in grocery, convenience, and retail stores, healthcare clinics, and of course volunteers who continue to mask up to help neighbors across the state.