Hope for the Holidays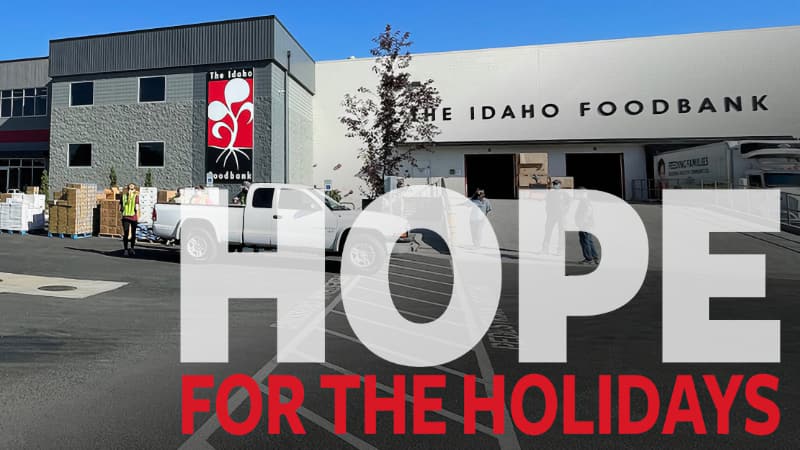 During November and December, The Idaho Foodbank's Hope for the Holidays Campaign promotes efforts across the state to alleviate hunger. We have already had many great events and there are still opportunities to get involved. You can see activities that have already happened across Idaho here.
One of the events that took place in November was Pocatello's Cranksgiving Turkey Drive. This put a unique and healthy "spin" on the Thanksgiving holiday with the support of the bicycling community. The 1,300 frozen turkeys collected at Barrie's Ski and Sports were transported to The Idaho Foodbank by a parade of bicyclists of all ages. The turkeys were included in holiday food boxes that consisted of turkey, potatoes, green beans, stuffing, yams, and pie. A total of 944 families were provided food boxes at a distribution at the Bannock County Fairgrounds, thanks to the help of over 150 volunteers.
There are still many opportunities to get involved – even with routine activities like your grocery shopping. The Santa Bucks campaign at Albertsons stores has already begun. The Holiday Heroes campaign in North Central Idaho is a chance for the community to donate food and funds for holiday meals at Rosauers for a food distribution during the week of Christmas in Lewiston.
For many Idahoans the winter season brings additional financial stress – especially this year, when the continuing impacts of the pandemic and rising costs are affecting so many. With the support of the community, The Idaho Foodbank is working to allow everyone, regardless of their current financial situation, to have a holiday meal and nutritious food on the table throughout the season.
The Idaho Foodbank's goal is to provide food for approximately 2 million meals each month – an effort made even more impactful by Corwin Ford and Camille Beckman, who provided challenge matches. We are off to an incredible start, having met our November goal thanks to incredible generosity across the state.
More information on events coming up across the state can be found on our Hope for the Holidays page. Together, we can ensure that all Idahoans have a happy and hopeful holiday season.