Hunger Can Affect Any of Us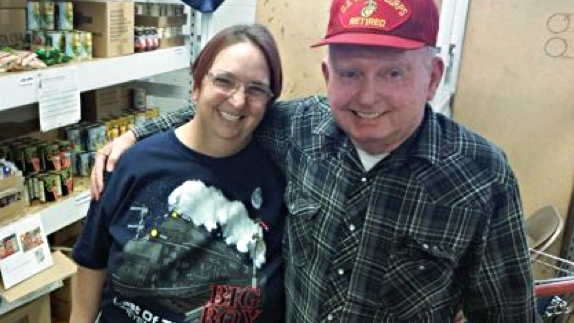 When Michael pulled up at the school pantry in Kuna for the first time early this year, he paused before he went inside. Like many who ask for help, the decision to admit his need was not an easy one.
"It was a little hard to come in here for the first time," he says. "I'd never done anything like this. I was greeted with open arms."
Those open arms at his Kuna pantry also provided him with boxes of food – and a whole lot more. He's built a relationship with the volunteer who dedicates her time to making the pantry work for her community, and he says the respect he found in its doors were worth more than every pound of food on the pantry shelves.
[blockquote quote="Here, you're treated with respect. They look at you, not down on you. And that means a lot to folks." source="Michael"]
"I think it's the difference between day and night." he says. "Nobody likes to be down on their luck."
Since turning to the Foodbank partner, Michael, a Marine Corps veteran of 20 years, has been noticing a lot more of folks who are down on their luck in his community. Even as the economy improves, many Idahoans are left outside of the economic boom.
"We find some of the younger families in our own neighborhood, a man or woman may lose their job and then they need help," Michael says. "We try and help them from what we have, but then we tell them about the pantry."
The benefit of a food box, he says, is felt days after he leaves the pantry.
"It gives a sigh of relief when you do the grocery shopping later," he says. "You say, 'Oh, we don't need that this time'. Before you know it, you're saving 80 cents here, or a dollar there. It adds up after a while."
That money he's saving by turning to the Foodbank isn't quite eliminating his food insecurity, but it has given him more ability to think about the other people in need around him.
"Now, I volunteer," he says. "It's a little something I can give back to the community. They're taking care of me with a little bit of food for me and my family, so I figure I can do this."