Hunger to Health Partnerships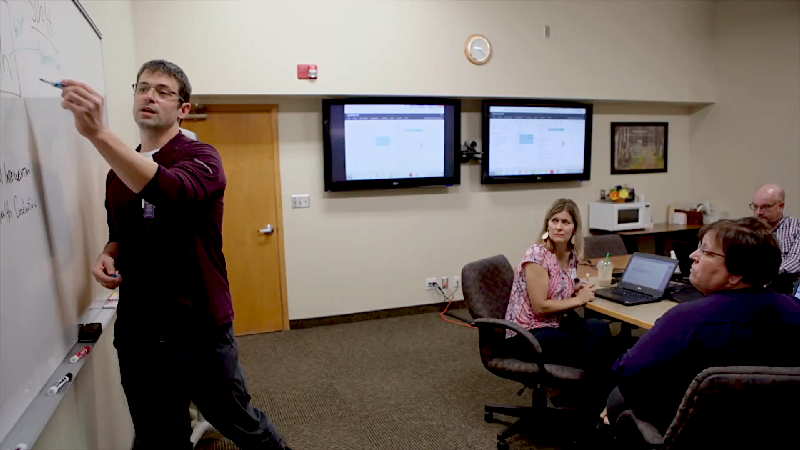 The Idaho Foodbank has been able to partner with organizations around the state as part of our Hunger to Health Strategy. This has taken a variety of forms.
Last Spring, The Idaho Foodbank hosted regional, online Hunger to Health forums for Eastern Idaho and North Central Idaho. Attendees were able to learn about the work of health care providers, such as St. Mary's and Clearwater Valley Hospitals and Clinics and St. Joe's Hospital, about the importance of nutritious food to a person's overall health. They spoke about some of their specific programs, such as diabetes management and prevention, as well as larger trends surrounding the impact of food insecurity on health and health outcomes.
The Idaho Foodbank collaborates annually with Delta Dental to provide dental health kits, which include toothbrushes, floss and toothpaste, to our neighbors in need. Dental health is often overlooked and access to some of the basics for dental care can make a significant impact.
The Idaho Foodbank has also worked to share guidance about how to enroll in the Children's Health Insurance Plan (CHIP), Medicaid and the Supplemental Nutrition Assistance Program (SNAP), as well as information about COVID-19 vaccination.
In a world where the amount of information that is available can be overwhelming, we are proud to help our neighbors have access to information and other resources to help them live a long and healthy life. These Hunger to Health partnerships with other organizations in Idaho can make a difference in the lives of our neighbors.
As part of the Idaho Foodbank's Hunger to Health Strategy, The Idaho Foodbank convened a Hunger to Health Advisory Committee that met quarterly over the last year. The Advisory Committee was comprised of leaders in community health and wellness throughout Idaho. We appreciate the Advisory Committee's support and guidance in developing and implementing The Foodbank's Hunger to Health initiatives.
Thank you to The Idaho Foodbank's Advisory Committee members:
Heidi Hart, CEO, Terry Reilly Health Services
Dr. Jennifer Shalz, Medical Director, Lifestyle Medicine, St. Luke's
Dr. Ted Epperly, CEO, FMRI, Idaho Healthcare Transformation
Yvonne Ketchum-Ward, Retired CEO, Idaho Primary Care Association (IPCA)
Dr. Keith Davis, Shoshone Family Medical Center
Laura Thomas, MED, RD, LD
Katie Lamansky, Manager, Get Healthy Idaho, IDHW Division of Public Health
Luis Lagos, Community Outreach Program Manager, FMRI
Alexis Pickering, MHS, Health Strategist, WICHC
Liz Woodruff, Executive Director, Idaho Academy of Family Physicians
Kyli Gough, RDN,LD, Community Health Manager, St. Luke's
Denise Chuckovich, Retired Deputy Director – IDHW, The Idaho Foodbank Board of Directors, FMRI Board of Directors, Idaho Healthcare Transformation
Karen Vauk, CEO, The Idaho Foodbank
Amy Luginbill, Director, Community Initiatives, The Idaho Foodbank