Inspiration in Northern Idaho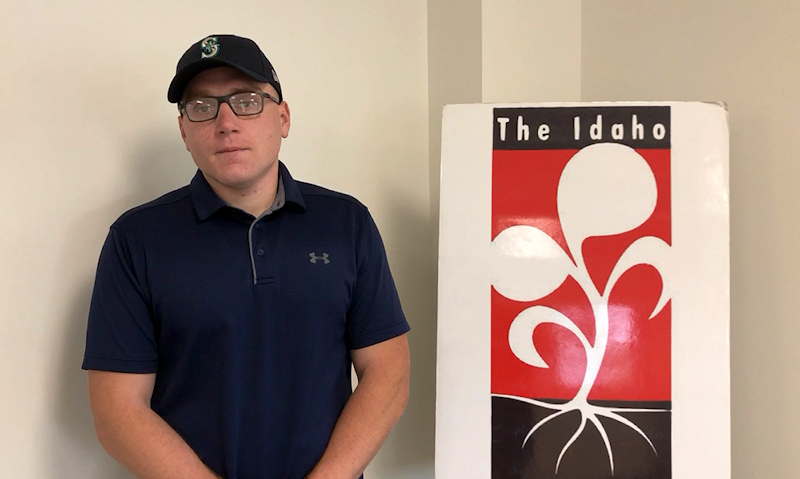 It's a special day when someone comes along who truly inspires us. Today, his name is Lionel.
After high school graduation, Lionel spent four years in the Marine Corp before enrolling as a full-time student at Lewis Clark State College. He is currently going into his senior year and majoring in social work. While attending school, Lionel became a volunteer at The Idaho Foodbank and has now spent several years with us.
Lionel comes from a long line of hard-working people. His grandfather fled from Michoacán, Mexico, an area fraught with crime and unrest to find a safer and better life for his family in the U.S. Lionel's grandfather worked nearly every day in the fields, only stopping when he couldn't bear the pain to walk any more. Lionel's grandmother, who only recently passed at 89, was the care-giver to their large family and was thankful every day for their life in America.
Born in the U.S. and taught to be grateful for opportunity, Lionel feels proud to give back to The Idaho Foodbank and help others. People in his family have been in similar situations to those facing food insecurity, especially now during the pandemic. They have needed supplemental food to make ends meet.
"My mom is my hero. I want to show her that everything she has sacrificed has been worth it. More than anything, I want to make her proud."
When a job in The Foodbank warehouse became available, Lionel applied and was hired. He said he's familiar with The Foodbank, the staff, the work, but most importantly, "I could keep doing what I like to do, but now I'm an employee. Now I'm learning new skills, and more about what goes on behind the scenes."
He will leave the short-term job when school starts back up again in the fall. He adds, "A lot of students I go to school with have come here for help too and I'm glad to be helping them."
The North Central team of Idaho Foodbank out of Lewiston is proud to have Lionel on the team, helping to make a difference in the community. As Lionel says, "You know you are making an impact on the people who come in and need help."
With his degree, Lionel hopes to work with immigrant families and help them achieve their best life.
Lionel's story has inspired us. We are appreciative that he is sharing his many gifts with The Foodbank and his community.