Jicama Lime Salad Recipe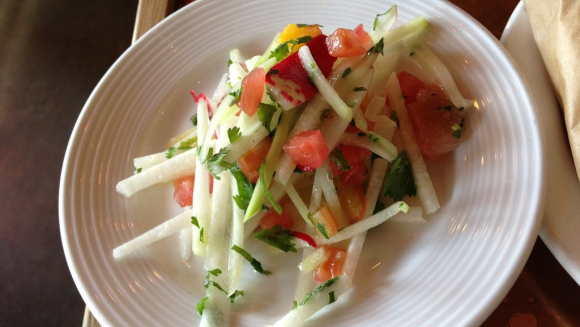 Jicama Lime Salad Recipe
As families prepare for kids to head back to school, they're still doing what they can keep things cool and simple. If that sounds good to you, you'll love the simplicity (six ingredients!) and preparation (no heat!) of this salad.
Plus, jicama (pronounced similarly to "hiccup") is prized for its sweet taste and delicate crunch. Teamed up with the seasoning in this recipe, it makes an out-of-the ordinary salad.
Ingredients
1 tablespoon extra-virgin olive oil
½ cup lime juice
1 tablespoon granulated sugar
½ teaspoon salt 1 medium-size jicama, peeled
1 medium-size red bell pepper, minced
½ cup minced fresh parsley
Directions
Combine the oil, lime juice, sugar, and salt in a large bowl; stir. Set aside.
Chop the jicama and add to the juice mixture (this will prevent browning). Add the pepper and parsley; stir well.
Let stand at room temperature for 30 minutes before serving. Alternatively, make a day ahead and store, covered tightly, in the refrigerator.
Variation: Peel the jicama and cut into 2-inch-long thin strips. Marinate in a combination of the remaining ingredients (except the red bell pepper). Serve as an appetizer.
Nutritional Information
Serving size: 1 Cup Serves 6
Calories: 100; Total Fat: 2.5g; Saturated Fat: 0g; Cholesterol: 0mg; Sodium: 200mg; Total Carbohydrate: 19g; Dietary Fiber: 6g; Protein: 1g.
Show us your pretty plates! If you make this salad, we'd love to see it.