Karen Vauk Retiring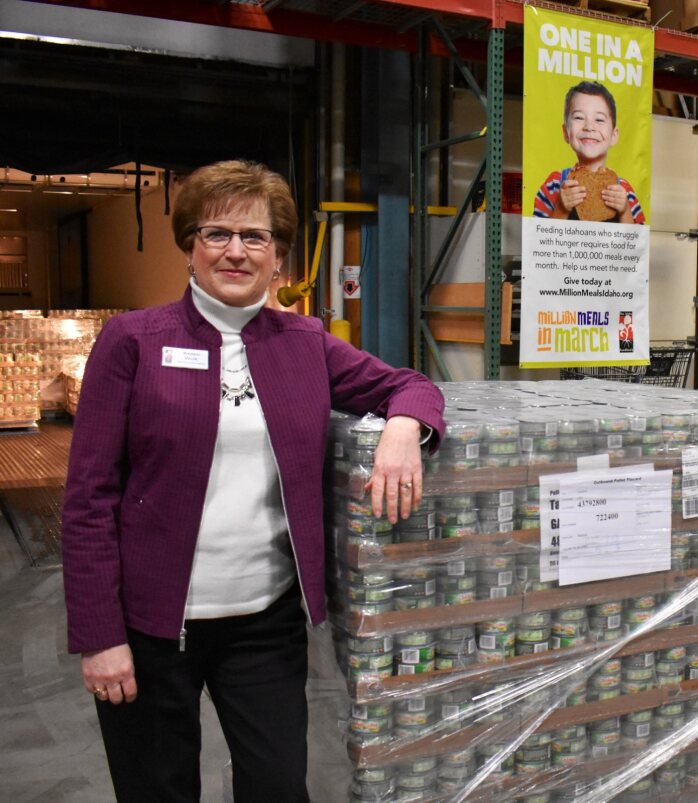 Earlier this year Karen Vauk announced her plans in the spring to retire from The Idaho Foodbank after leading the organization for 14 years.
The Idaho Foodbank distributed 6.9 million pounds of food during Karen Vauk's first year as President & CEO. During the last fiscal year, The Idaho Foodbank distributed 28.6 million pounds of food – enough for up to 23.8 million meals. This growth is a reflection of the work to make food available in places in Idaho where the need was not being met. Karen focused on moving towards an emphasis on providing nutritious food for Idahoans in need – 86% of the food provided by The Idaho Foodbank in the last fiscal year was nutritious.
Karen was born in Idaho and received both her Bachelor and Master of Arts degrees in Education from Boise State University. For nearly a decade, Karen taught elementary school in Idaho, which was only the beginning of her demonstrated passion for healthy children and families.
Prior to joining The Idaho Foodbank, Karen served as University Advancement Development Director at Boise State University. This followed nearly two decades with Micron Technology, Inc. where she led the building and expansion of the workforce education and organizational development programs for the worldwide technology company. She also served as Executive Director of the Micron Technology Foundation where she established corporate giving programs across the U.S. and in many international communities.
She has served on numerous Boards and Commissions to support education, nonprofits, and healthy communities. Karen previously held a Governor-appointed Board position for "Your Health Idaho" and was on the Board for the "State Healthcare Innovation Plan". In addition, she served on the St. Luke's Health System Board of Directors. She has also served on board committees for Feeding America, a network of food banks leading the fight against hunger in communities nationwide, and has served as an Honorary Commander for the Idaho Air National Guard.
She has received numerous honors, including the Idaho Business Review's ICON and Woman of the Year Awards, Tribute to Women in Industry (TWIN) award and a University of Utah outstanding service award. In 2016, the White House named Vauk a "Champion of Change" for her work with the AmeriCorps VISTA program.
During Karen's tenure, The Idaho Foodbank began the School Pantry program, which makes food available to children and their families in a location that is familiar and easy for them to access. In 2014, The Idaho Foodbank's Capital Campaign began as part of an intentional goal to grow in order to work toward a hunger free and healthier Idaho. This campaign led to
improvements at the Eastern Branch in Pocatello, a brand-new facility for the North Central Branch in Lewiston, and the renovation of an existing building to create a new headquarters in Meridian.
Karen, thank you for your dedication to helping Idahoans and best wishes for your retirement! The community is invited to Karen's retirement open house here.