Learning Together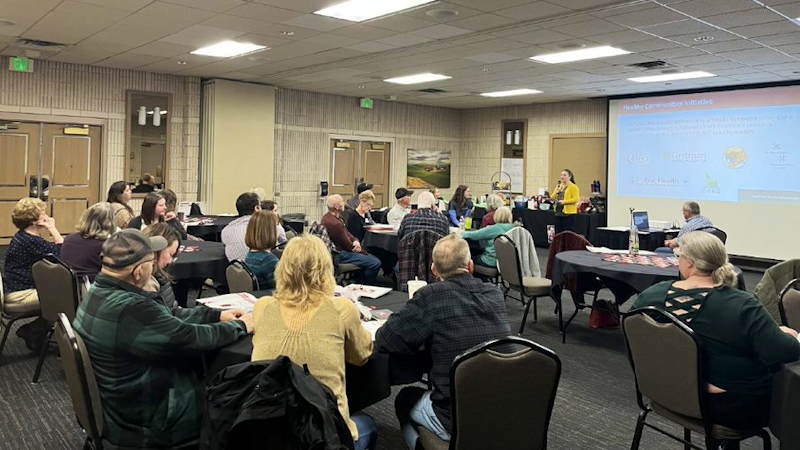 Together with a network of over 465 food distribution partners, The Idaho Foodbank has a statewide reach with a local touch into all 44 counties in Idaho. With the aim of ending hunger and creating healthier communities, we strive to present opportunities for the hunger relief network to learn from experts and one another. In April we were able to come together as a network for in-person and online Partner Conferences, as well as a listening session with an emphasis on the connection and process of moving neighbors from a place of Hunger to Health. 
The Foodbank's Hunger to Health strategy is focused on providing nutritious food, nutrition education and health resources. The Foodbank's Hunger to Health strategy is also about working collaboratively with experts, leaders and community organizations to create healthy communities.  
More than 70 hunger relief volunteers, staff and advocates attended conferences in Lewiston and Moscow that included a discussion of a Healthy Pantry Framework, as well as education and partner experiences around Hunger to Health. Organizations in the region also shared updates on some of their amazing work in their communities. The Southwest online Partner Conference included discussions about the intersection of health and nutrition. There were also partners who shared information about taking a trauma-informed approach to services when working with neighbors who are going through challenging times.   
Additionally, The Foodbank worked closely with the Shoshone Bannock Tribe in Fort Hall to hold a Listening Session with community and tribal members. This was a chance to share information about The Foodbank's mobile pantry program and to listen and learn from the community about how food access can be improved. Those gathered also discussed ideas such as co-locating food distributions with services, such as health care and health screenings.    
Hunger is a significant challenge in many communities in Idaho. We know that when we learn and work together our impact can be far greater than anything we can do alone. Many thanks to our partners and presenters who participated in these opportunities – together we can end hunger.