Mac And Cheese with Broccoli
Ingredients
1 small head broccoli
5 ounces cheddar or Monterey Jack cheese
1 (16-ounce) package whole wheat macaroni
1½ cups nonfat milk
1½ Tablespoons unsalted butter
2 Tablespoons all-purpose flour
½ teaspoon salt
½ teaspoon ground black pepper
4 Tablespoons light cream cheese
Materials
Box grater
Colander
Cutting board
Fork
Large pot
Measuring cups
Measuring spoons
Microwave-safe bowl
Rubber spatula
Sharp knife
Small pot with lid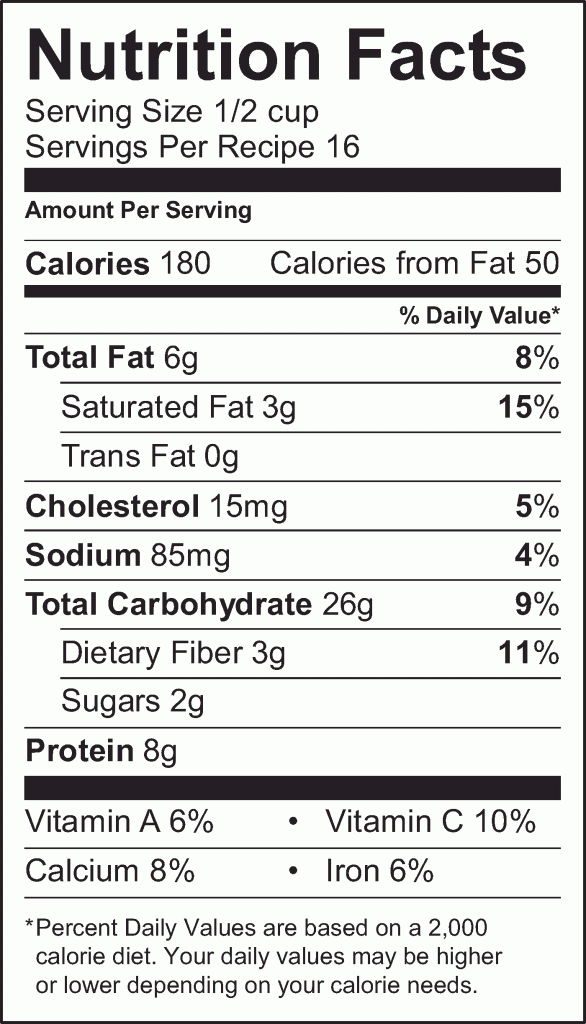 Instructions
Rinse and chop broccoli.
Grate cheddar or Monterey Jack cheese.
In a microwave-safe bowl, add broccoli and just enough water to cover half way. Heat in microwave until bright green and tender, about 6–8 minutes.
Cook pasta following package directions. Drain in a colander and set aside. While pasta is cooking, make cheese sauce.
In a small pot over medium heat, heat milk. When hot, remove from heat. Cover to keep warm.
In a large pot over medium heat, melt butter. Add flour. Whisk with a fork, stirring constantly.
Slowly add the warm milk. Stir constantly with a rubber spatula, until sauce thickens. Sauce should be thick enough to coat the back of a spoon.
Stir in salt and black pepper. Add cream cheese, grated cheese, and broccoli. Stir until grated cheese is melted. Remove from heat.
Add macaroni to cheese sauce. Stir to coat.
Chef's Notes
Use any veggies you like. Try using 1½ cups chopped tomatoes, steamed cauliflower, or cooked peas or spinach instead of broccoli.
For a heartier version, in step 8 add 1 (12-ounce) can tuna, packed in water, drained. Or, add cubed and cooked chicken pieces.
For extra flavor, add ½ teaspoon dried thyme or any herbs and spices you like. Mix into the sauce with the salt and pepper.
Use other whole wheat pasta, like penne or shells, instead of macaroni.
Freeze leftovers for up to 3 months.
Broccoli is a member of the cruciferous vegetable family like cauliflower, Brussel sprouts, and cabbage. A one-cup serving of this veggie is chock full of nutrients- vitamin K, vitamin C, calcium, iron, phosphorus, and potassium to name a few. Broccoli is also an excellent source of fiber, which boasts benefits such as stabilizing blood sugar, supporting heart health, and even reducing the risk of some cancers.
Broccoli is a cool-weather vegetable and is in season between October and April. It will last between 3-5 days in the refrigerator. Do not forget to give your greens a cold rinse before eating- it prevents food-borne illness.
Broccoli is a versatile vegetable. Raw, chopped broccoli makes an excellent dipper in sauces like low-fat ranch dressing or hummus. Steamed broccoli can be a quick and easy side to accompany any meal. Consider roasting broccoli to give it a unique flavor with a splash of heart-healthy oil (like avocado or olive oil) and simple seasonings such as garlic and rosemary. The versatility of broccoli also makes it a great addition to some of your favorite dishes like soups, quiches, or sheet-pan dinners. Broccoli can even be scrambled with eggs and cheese in the morning to add a little green to your breakfast or a salad for lunch.
Broccoli can be a great addition to your little one's diet as well as your own. Involving your kids in the kitchen fosters an opportunity to encourage your children to try new foods! Here are some tips for introducing broccoli to your little ones in the kitchen!
Children 2 and Under Can

Learn about the colors of broccoli, and practice saying the name!
Taste small amounts of broccoli, prepared in age appropriate ways

3 Year Old Children Can

Rinse your broccoli before serving
Snap florets off the head of broccoli
Dip small broccoli florets into taste tips!
Arrange veggie trays including broccoli

4 Year Old Children Can

Measure broccoli with a measuring cup
Practice cutting broccoli into pieces with a plastic or dull knife (with adult supervision)
Season broccoli with spices before being roasted
Want to try a new way to incorporate broccoli into your weeknight meals? Try this cheesy and delicious stove top macaroni and cheese!
https://cookingmatters.org/recipe/stove-top-macaroni-and-cheese/
For more tips on involving kids in the kitchen, check out the Cooking Matters website!
https://cookingmatters.org/