Making a Difference in North Nampa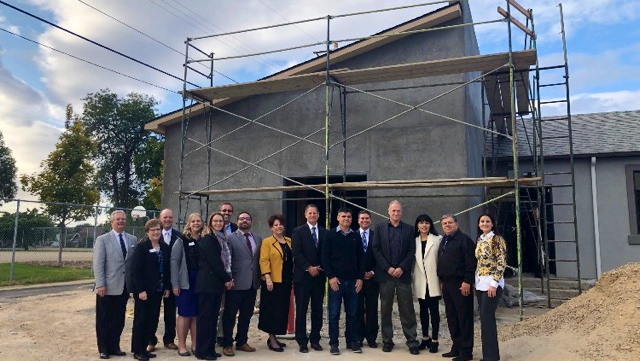 The spirt of giving is strong in Idaho. Therefore, it is fitting that "National Make a Difference Day" on October 26th falls within Idaho Hunger Awareness Month. The following is a story that may help to inspire many Idahoans looking to make an impact.
It started in April of 2016 when Paul's Market closed in North Nampa. This closure not only ended a local business, but created a food desert for the local community; an area in which access to affordable, quality food is difficult. However, out of this desert sprung an oasis in the form of neighbors helping neighbors.
In May of 2017, the Nazarene Care House established a mobile panty in the community. The first distribution served 82 families. Good News Church stepped in too; providing Nazarene with volunteers and canopies to provide shelter for the food and the clients.
When Nazarene Care House could no longer continue coordinating the mobile pantry, Good News Church again stepped in and up. They officially took over the program in November 2017 and relocated it to the church's parking lot at 1203 7th Street in Nampa. Working in conjunction with The Idaho Foodbank, the pantry has distributed over 152,000 pounds of food and currently serves an average of 115 families every 1st Wednesday of the month. "What is the use of a church if it does not have an impact on the community? At Good News Church we believe you need to be involved in the area where you have been sent," said church member and mobile pantry coordinator, Sam Mangeac.
A welcoming atmosphere where everyone is treated with dignity and respect, this mobile pantry is a family operation. The set-up and product distribution falls into the capable hands of Sam's siblings – Benny Mangeac (Brother), Gabriella Hargos (Sister), and Claudia Dina (Sister) – as well as his devoted wife, Monica. Matriarch Margo Mangeac greets clients and answers questions with a warm smile and cheerful "hello". The pastor of Good News Church and Sam's brother, Daniel, is also present to listen and lend a hand. Loyal volunteers, who are treated like family, round out the crew that implements this vital community service every month.
Understanding that transportation might also be an issue for those faced with food insecurity, Good News Church partnered with Treasure Valley Leadership Academy in January 2019 to sponsor the Traveling Table. The "table" is actually a food truck that drives to low-income neighborhoods in the North Nampa area to distribute produce and dry product directly to the residences. The first distribution served 45 families. They now serve an average of 85 families and distributed a total of 9,987 pounds of food.
Again in partnership with The Idaho Foodbank, Good News Church and their volunteers took on the task of distributing Commodity Supplemental Food Program (CSFP) boxes to the Golden Glow Towers senior apartment complex. Through this service an average of 25 seniors each month are provided nutritious food to augment their diets. In addition to the boxes, many of the elderly residents also receive a visit from Sam's 3 year-old daughter, Gracie.
Knowing the need is great within the community, Good News Church continued to seek solutions on how best to serve. Their answer was to establish a permanent pantry at the church; a brick-and-mortar structure that would allow more access to free nourishment. Through fundraising efforts and a recent $100,000 donation, the pantry is expected to open this November; just in time to make the holidays a little brighter for their neighbors in need.  What a perfect way to honor National Make a Difference Day and Idaho Hunger Awareness Month with the news that hope, help and a permanent pantry will be available in North Nampa.